Wednesday, April 12th, 2023 10:45am
Summary
"I feel like there is something about this documentary that makes people just want to be better, more compassionate and empathetic humans, just like the Red Crow family in the film." — director Banchi Hanuse
By Crystal St.Pierre
Local Journalism Initiative Reporter
Windspeaker.com

As the beat of the drum echoes around the track, the rider's heart begins to beat faster in anticipation of the start of the race. Her horse feels the rhythm and its feet begin to prance.
"The beat of the drum. The powwow music. Oh, you just see all the horses prancing and dancing. They're ready to go. They want to go. They know it's time to race," said Allison Red Crow, whose daughter Logan participates in the Indian relay race.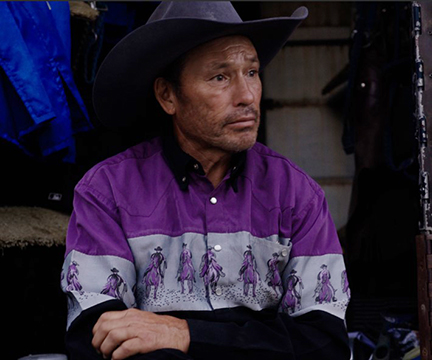 "It's something you gotta see. They will start to prance, and we really have to hold them back. But it's really neat. It makes you feel like dancing," says Allison, Logan's father.
Logan, 22, and Allison, 55, have been participating in rodeo in Canada and the United States for many years. One of the races they participate in is called the Indian relay race.
"It literally is like a relay, but the human is the baton, jumping from one horse to another," explained Logan.
Riding bareback, the rider races the first horse around the track, and as they complete that lap, they jump off onto another horse and begin another loop.
In the men's Indian relay, they complete three loops with three different horses. The ladies go two laps with two different horses.
For the past several years Logan has participated in the men's race as there's not much in the way of women's relay in Canada, but she rode in the Canadian Ladies Indian Relay Race held at Enoch Cree First Nation in Alberta in 2021 and last year.
The event was captured in the documentary Aitamaako'tamisskapi Natosi: Before The Sun, which will screen at Hot Docs April 29 and will stream May 5 to May 9. The festival runs from April 27 to May 7 in Toronto.
"Her story stood out as a really captivating journey that would be empowering for young Indigenous women," said film director Banchi Hanuse.
Originally the film was supposed to be a series that highlighted a number of young Indigenous women who participate in various horse racing events across Canada, but Hanuse decided Logan's story was so intriguing that she wanted to create a documentary based on just the young rider.
"There's this super fearless Siksika Nation girl who does these incredibly dangerous horse races, and she lives on a ranch by the Bow River with a pack-load of beautiful horses. And I just wanted to see it and be her bestie. And I knew if I felt that way, then many other people would feel that way too," Hanuse told Windspeaker.com.
The documentary follows Logan as she travels to various races in the United States and Alberta, including the one at Enoch.
Since she was about four years old, Logan has loved climbing up on a horse and developing a deep trust with the animal over time.
Now she spends all of her free time training, feeding and taking care of her herd of thoroughbreds on the family-owned ranch, Three Suns Rodeo Ranch.
 It is located on the south side of Siksika Nation in Treaty 7 territory with rolling hills as a backdrop.
Her grandfather originally owned the ranch and is still giving advice to Logan and Allison today.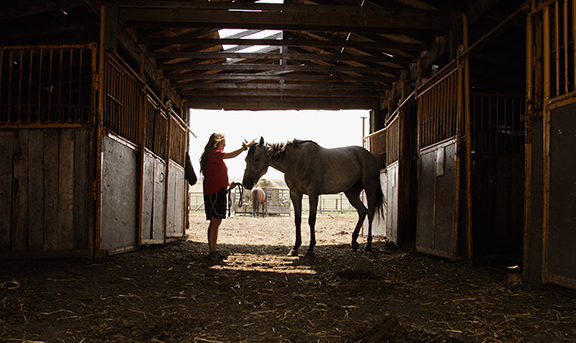 The title of the documentary reflects how the Red Crows and their team wakes up early to get started on the day, said Allison.
"We train before the sun comes up. At the break of dawn, before the sun rises, we start preparing to go out and train our horses."
Training horses begins in early spring and begins by simply walking the horses for a couple of weeks, then trotting them, and eventually working them into a gallop.
Once they have been running for several weeks, they will begin to practice races, giving the animals and the riders time to get used to the relay process again.
Logan said she loves this time of year as the winter fades away and she can get back on the track.
"I do feel free when I race. Sometimes I feel terrified or excited or sometimes I'm happy to race. It depends on how far we are in the season.
"At the beginning of the season I notice I have a lot of nerves. I'm kinda nervous because I feel I have some trauma from past races where I have had wrecks. But after you do a few races and get further into the season, it just goes away and then it's just an exciting feeling to just go full speed," said Logan.
This sense of freedom and purpose is exactly what Hanuse hopes the film will portray to viewers and inspire them to also chase their dreams.
"I feel like there is something about this documentary that makes people just want to be better, more compassionate and empathetic humans, just like the Red Crow family in the film. I want viewers to carry that into their own lives and feel inspired to make their own dreams possible like Logan does," Hanuse said.
As Logan begins to get ready for this season, she is excited to see how she will finish, but she will continue to work hard in the years to come to reach her goals.
"I wanna win all the big races in the States. There have been relays going on for almost 50 years in the States and it's just a different atmosphere and level of competition and I just want to be a part of that," she said.
Find information about the film here: https://hotdocs.ca/Search-Result?searchtext=Before%20the%20sun&searchmode=anyword
Never miss a Windspeaker article. Subscribe Today to our new Windspeaker Newsletter!
Local Journalism Initiative Reporters are supported by a financial contribution made by the Government of Canada.