Monday, January 30th, 2023 2:42pm
Summary
"I have used music not to fully overcome poverty, but to find a way out of the poverty that exists on the reserve today." — Kenneth Henderson, lead singer of Low Budget Rock Star
By Crystal St.Pierre
Local Journalism Initiative Reporter
Windspeaker.com

Richie Cudmore, 58, passed away from cancer in the summer of 2022, but before the drummer of the three-piece band Low Budget Rock Star left this world, he co-wrote the song "More Than Ever".
"'More Than Ever' is a pop-rock ballad. It speaks to longing for people who have gone on into the spirit world, missing them and needing them. I think it's a deeper side of our catalogue and I'm really proud of it, actually," said Kenneth Henderson, lead singer of Low Budget Rock Star, and co-writer of the tribute to his bandmate, Cudmore. It was released last December.
"Ritchie was a principal song writer for the band, and I guess we wanted to honour him with this release," Henderson explained.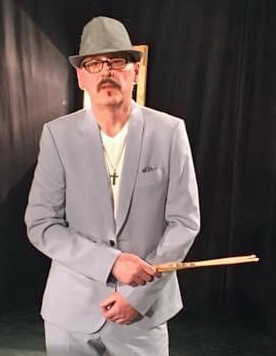 "More than Ever" was written following Cudmore's diagnoses. It was crafted as the band, which includes Harley Whitehead on bass, struggled with how they would carry on if Cudmore didn't win his battle with cancer and how they would deal with such a tragic loss.
"It took a while to get off the ground with this third release, just due to the fact we were overcoming his loss and we were trying to get our feet back under us," Henderson said. "We managed to get some shows done and did some more writing and found the inspiration to release this new track."
For the recording, Terry Constant, 48, filled in on the drums.
"As a friend of the guys, I'm honoured they asked me to fill in for Ritchie," said Constant. "Ritchie was one of the first from our small town to really go after the dream of writing, recording and trying to really chase the dream."
Constant praised the two writers for their collaboration on the original lyrics and believes it is one of Henderson's best work.
"I've watched him grow as a song writer and I can say, lyrically and musically, this is one of his best songs I've heard," said Constant. "The song being about Richie and his passing and how it made him feel pours out in the song and sometimes life and art is a painful thing."
Constant and the other members of the band have all known each other for many years. They grew up in Opaskwayak Cree Nation at The Pas, which is located about 600 km north of Winnipeg.
"We've always been driven by music. Since I was a young guy at 13, I have always used it to help myself through the social issues we face here in the North," Henderson explained.
The musicians often played in different bands and filled in for each other during their youth.
The original trio had played together for many years before changing their name to the current Low Budget Rock Star.
The band name is another part of Cudmore's legacy.
"It was his sheer talent and sheer giftedness in song writing and ideas," said Henderson. "I mean, he was the guy that helped found the name Low Budget Rock Star... It's an anthem for musicians today, artists today. I have used music not to fully overcome poverty, but to find a way out of the poverty that exists on the reserve today. How hard it is to find wealth in it, in the music industry.
"We know there are so many other artists who struggle financially when taking up a career in the music industry. It's probably one of the hardest things to do, the hardest gigs out there. But if you love it enough, I feel it could treat you well," said Henderson.
Their first two singles landed them the number six spot on the Indigenous Music Countdown and they recently travelled to Nashville to perform in a show.
"More Than Ever" can be found on YouTube at https://youtu.be/Kr1o8ZhVc-w
 Spotify or through the Low Budget Rock Star's Facebook page at Low Budget Rock Star | The Pas MB | Facebook
Local Journalism Initiative Reporters are supported by a financial contribution made by the Government of Canada.