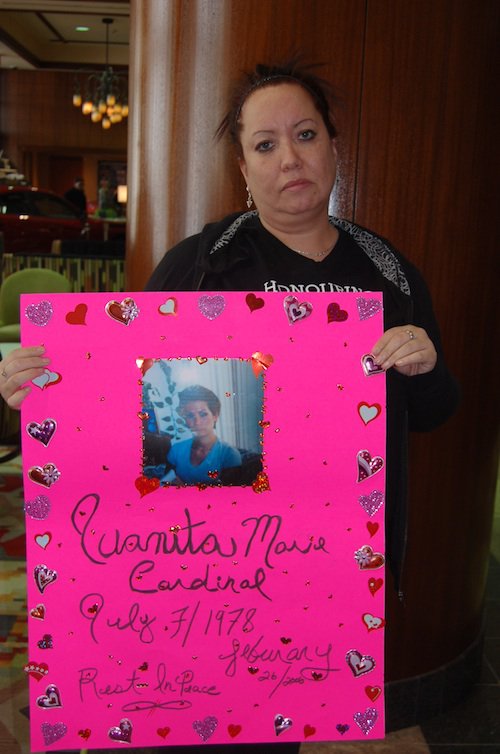 By Shari Narine Contributor Editor Alberta Sweetgrass, February 12, 2016
On a personal level, Danielle Boudreau is hoping to get a permanent grave marker for her sister.
"My sister doesn't have a headstone because we can't afford a headstone. She's still going unnoticed even in her last day," said Boudreau, who is Metis from the St. Paul/Saddle Lake area.
On a wider level, she is hoping that a national inquiry into murdered and missing Indigenous women will meet the needs and bring closure for the many, many family members impacted by the tragic loss of a loved one. 
Boudreau was among the many immediate family members to meet with Northern Affairs Minister Carolyn Bennett on Thursday.  Bennett's stop at the River Cree Marriott was her 16th pre-inquiry meeting as she crosses the country to get input as to what the national inquiry needs to accomplish and how it can best meet those goals while caring for the families, who tell their heart-wrenching stories.
"For the families, my heart is with all of the people here. I've seen the tears, the hugs, the smiles. The group we all belong to. It's like a group we don't want to belong to," said Boudreau.
Boudreau knows she could easily have been counted among the 1,200 murdered and missing Indigenous women. She led a lifestyle of drugs and sexual exploitation. Instead, it was her sister, Juanita Marie Cardinal, who worked in a pad thai restaurant, who was murdered in 2006.
"As soon as I say my sister was murdered, people automatically assume she was in the sex trade," said Boudreau.  "That's exactly the stigma we, as Aboriginal people, live with."
Read more: http://www.ammsa.com/publications/alberta-sweetgrass/mmiw-families-voice-concerns-over-treatment-police