Thursday, August 25th, 2016 11:30am
Summary
"To the people who were scooped, who lost so much, and to their children and all those trying to reclaim who you are, and to those who will not come back and to those who don't even know where they fit or why they don't fit, or felt as if they belong somewhere else, I say welcome." ~ Chief Stacey LaForme of Mississaugas of New Credit First Nation
By Barb Nahwegahbow
Windspeaker Contributor
TORONTO
"Nobody has the authority or the right to give anybody's baby away," said Deputy Grand Chief Glen Hare of the Anishinabek Nation. Hare's words received raucous cheers from the 400 people gathered at a rally in support of the Sixties Scoop class action lawsuit.
Survivors of the Sixties Scoop and their supporters gathered outside Osgoode Hall courts in Toronto on Aug. 23. Many travelled by bus from Ottawa, Peterborough, Sault Ste. Marie, Wikwemikong First Nation and other communities to attend the rally and a court hearing on the class action.
The lawsuit has gained momentum and support amongst communities and First Nations leadership.
Between 1965 and 1984, 16,000 First Nations children in Ontario were taken from their families by child welfare agencies and placed in non-Native homes. This has become known as the Sixties Scoop.
The class action against the federal government claims that these children suffered a profound loss of cultural identity due to Canada's failure to protect them. The lawsuit began in 2009 and has been fought by the federal government through appeals of lower court rulings that favored the survivors.
Speaking at the rally, MP Charlie Angus (Timmins-James Bay), the NDP Critic for Indigenous and Northern Affairs, called on the government to "stop fighting the survivors…
"This hearing today is about the government taking responsibility for its attempt to destroy a people…get out of that courthouse, come down and sit with the people and make the justice that's been denied for too long."
Marcia Brown Martel, the representative plaintiff in the lawsuit, said "We need to bring our children home; the ones who were lost, the ones who were stolen, the ones that were taken. They need to come home."
Martel was taken from her family as a little girl and adopted by a non-Native family. She is now the Chief of Beaverhouse First Nation near Kirkland Lake, Ont.
Martel served notice on the government. "We will not allow the continued harm of our children, their identity, their traditional ways, their way of thinking, their culture and their language," she said.
First Nations have heard honorable words from the government, she said, "and now is the time for honorable action to follow."
Martel's words were echoed by Deputy Grand Chief Hare, who represents 40 communities.
"We are making constitutions for our communities," Hare said, "and number one will be, no more kids will be driven away from our communities, from their moms. No more. That'll be our number one constitutional law."
"You are still family," said Chief Stacey LaForme of Mississaugas of New Credit First Nation. "To the people who were scooped, who lost so much, and to their children and all those trying to reclaim who you are, and to those who will not come back and to those who don't even know where they fit or why they don't fit, or felt as if they belong somewhere else, I say welcome."
The Sixties Scoop was like the residential school grab, said Ontario Regional Chief Isadore Day.
"The federal government and the provincial governments in this country are responsible for the intentional and systemic dysfunction of First Nations families and communities through their assimilation policies and actions," he said. They have a fiduciary responsibility to reconnect the adoptees and foster children with their families and communities, Day asserted.
"Our ancestors signed treaties to share the land. Treaties did not give you the permission to take our children," said Day.
Led by the drum from Toronto Council Fire, the crowd marched up University Avenue to the Ontario Superior Court of Justice at 361 University Avenue where the case would be heard.
Inside courtroom #4-8, filled to capacity with survivors, cameras were set up to allow for live streaming to Toronto's Native Child and Family Services.
Sixties Scoop lawyer Jeffery Wilson gave a passionate delivery of his case. He didn't mince words as he told the court about the profound and irreparable pain and suffering experienced by the children who were taken by child welfare authorities, robbing them of their culture and all the rights contained therein, including economic.
The 16,000 children were robbed of their First Nations identity when they were children, when they couldn't protect themselves, Wilson said.
Canada maintains it was working in the best interests of the children and within the standards and social mores of the time.
Wilson spoke about the 1965 Canada-Ontario Indian Welfare Agreement, giving Ontario authority for child welfare on-reserve. This resulted in the Sixties Scoop, "an almost completed cultural genocide," Wilson said.
The agreement made provisions for advice from, and consultation with, Indian Bands, something that did not occur, said Wilson. Canada did not honor this part of the agreement, and "they almost got away with it," he said.
An affidavit from Wilmer Nadjiwon, who was chief of the Chippewas of Nawash during that period, attests to this failure on the part of the federal government. Nadjiwon is now 95 years old.
Wilson's motion for a summary judgment essentially asked Justice Edward Belobaba to decide the case based on the evidence the court had before it without the need for a full trial. Late last month, the federal government asked for an adjournment of the case to give them more time to come up with expert testimony. The court refused but the plaintiffs agreed to the one-day hearing on Aug. 23 to present their case. The hearing resumes for two days starting Dec. 1.
Wilson has been working with the lawsuit for 11 years. "It's been a long walk," he told the court, "and it may be a lot longer." He concluded his presentation by turning around to face his clients and, on behalf of his legal team, he said "We apologize for the profound harm that you have suffered."
The lawsuit is seeking $1.3 billion in damages. But more importantly, many survivors agree, they are doing this because another Sixties Scoop must never be allowed to happen again. 
Speaking after court adjourned, Wilson said he is hopeful that the federal government may reach out to negotiate for an out-of-court settlement.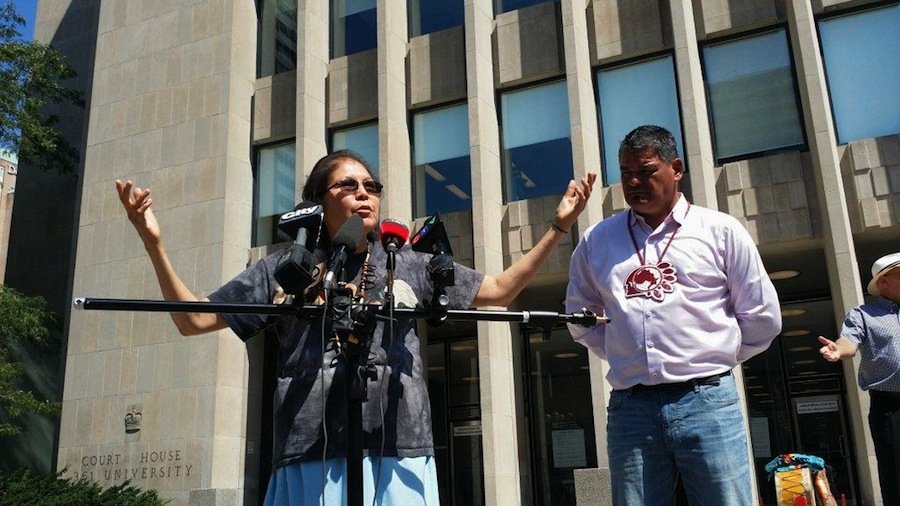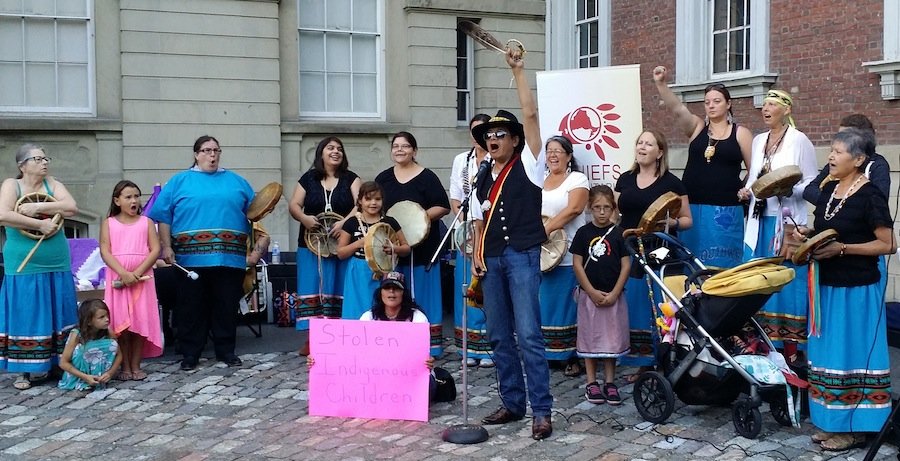 Photos by Barb Nahwegahbow