Tuesday, March 7th, 2023 3:58pm
By Shari Narine
Local Journalism Initiative Reporter
Windspeaker.com

A newly-formed Indigenous housing alliance wants the federal government to back away from the co-development of a northern, urban and rural Indigenous housing strategy.
"Co-development is not a phrase that appeals to me. Co- development is not 'for Indigenous by Indigenous'. It's 'for Indigenous by government'," said Jeff Loucks, interim CEO and lead consultant with National Indigenous Collaborative Housing Inc. (NICHI).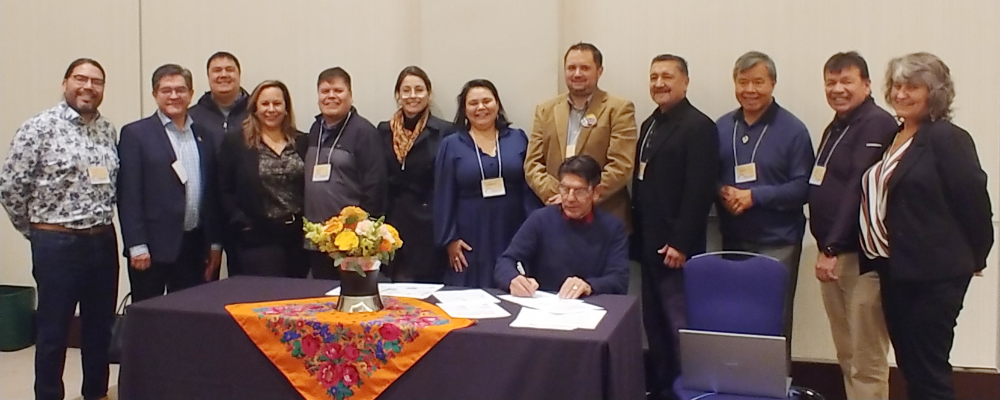 NICHI was formalized in January after a coalition of Indigenous housing providers from across Canada met in November 2022. The goal of the group is to push the Trudeau Liberals to provide sufficient federal funding to support Indigenous people who live off-reserve and for NICHI to be the delivery vehicle for that funding.
"At NICHI we're talking about 'for Indigenous by Indigenous'… Indigenous designed, Indigenous led. We need to be more involved in some of that conversation. We at NICHI are not quite clear on what co-development means and that conversation is part of the conversation we're having now with CMHC (Canadian Mortgage and Housing Corporation), trying to clarify what that means," said Loucks, who is also a councillor for Hiawatha First Nation in Ontario. He lives off-reserve.
Windspeaker.com requested a telephone interview with CMHC about NICHI. However, we were told no one was available to speak. Instead, an email interview was conducted.
But despite specific questions being asked, only a statement that did not mention NICHI a single time was received.
"We are committed to the co-development of an Urban, Rural and Northern Indigenous Housing Strategy with Indigenous housing and service providers, Indigenous governments and organizations, Indigenous Peoples living in urban, rural and northern areas, advocacy organizations, and provinces and territories. A change in approach that recognizes self-determined, culturally informed and Indigenous-led solutions are necessary to improve outcomes across the housing continuum," reads the CMHC statement in part.
There was no further explanation as to what was meant by a "change in approach."
In what is likely a reference to NICHI, the statement recognizes a "new National Urban, Rural and Northern Indigenous Housing Coalition" which is "one partner in the co-development process."
However, being a "partner in the co-development process" is not what NICHI is after.
Loucks says NICHI is in the process of going through the Treasury Board to secure the balance of $300 million set out by the federal government in its 2022 budget to address northern, urban and rural Indigenous housing.
From that federal budget line, NICHI wants access to $281.5 million, which it would deliver to Indigenous housing providers across the country for capital projects with the initial focus on unmet and urgent needs. Loucks would like to see NICHI begin allocating those dollars in May or June.
"We know it's not a huge amount of money," he said.
He's hoping "additional significant dollars" will come in the 2023 budget. To meet the demands across the country, he adds, would require $6.3 billion per year for five years.
Loucks points to now as being the right time for the government to take action. He says federal legislation implementing the United Nations Declaration on the Rights of Indigenous Peoples means a commitment for the government to address housing issues. Recommendations from reports done by the Truth and Reconciliation Commission on the legacy of Indian residential schools and the Missing and Murdered Indigenous Women and Girls outline the importance of safe and secure housing.
He says stark statistics underscore the urgency. Twenty-four per cent of Indigenous people live in low-income households in urban centres; 17.1 per cent of Indigenous people live in overcrowded housing compared to 9.4 per cent of non-Indigenous people; and by a ratio of three to one, more Indigenous people live in a dwelling in need of major repairs compared to non-Indigenous people.
"I'm optimistic that the government will respond, but I don't know to what degree. I feel confident what we're hearing back from the government is that they recognize this is an important segment of the Indigenous population whose needs are not being sufficiently met," Loucks said.
In its statement, CMHC says "the Government of Canada recognizes that action is urgently needed to accelerate funding for immediate housing needs."
To that end, CMHC has been allotted $18.5 million of the $300 million to undertake engagement sessions in collaboration with Indigenous Services Canada, Crown Indigenous Relations and Northern Affairs Canada, and Infrastructure Canada. Engagement was to occur with national Indigenous organizations over February and March on the co-development of an urban, rural and northern Indigenous housing strategy.
Loucks doesn't go as far as to say that CMHC's engagement is duplicating the experience that is embodied in NICHI, whose members, numbering around 35 right now, are the local grassroots organizations that have the experience of delivering housing services to Indigenous peoples, but he admits there's "some disconnect" between the two organizations.
"What we're trying to do, and that's part of the discussions now, is figure out …what that role looks like. So (CMHC) is using NICHI for what it's designed to do and they're taking advantage of the knowledge and awareness that NICHI organizations have at the community level that CMHC doesn't have," said Loucks.
Never miss a Windspeaker article. Subscribe Today to our new Windspeaker Newsletter!
Local Journalism Initiative Reporters are supported by a financial contribution made by the Government of Canada.