Friday, March 17th, 2023 3:30pm
Summary
"I've always believed in the ethics of journalism. You're objective. You're unbiased. You try to get all sides of the story. And that's the one thing that I've always stayed true to." —Bert Crowfoot, CEO and founder of the Aboriginal Multi-Media Society of Alberta, publisher of Windspeaker.com
By Rebecca Medel
Windspeaker.com

The Aboriginal Multi-Media Society of Alberta (AMMSA) is celebrating. 
On March 18, 1983, the non-profit communications society's very first news publication rolled off the press.
"I remember going out to Fort Saskatchewan and the first copies were coming off the press, and it was a really proud moment," recalled Windspeaker publisher and AMMSA founder Bert Crowfoot. "I've had a number of those proud papa moments over the years."
The publication back then was simply called AMMSA. It was devoted to news coverage in northern Alberta. The name changed to Windspeaker three years later and its focus to national news was made at its 10-year mark.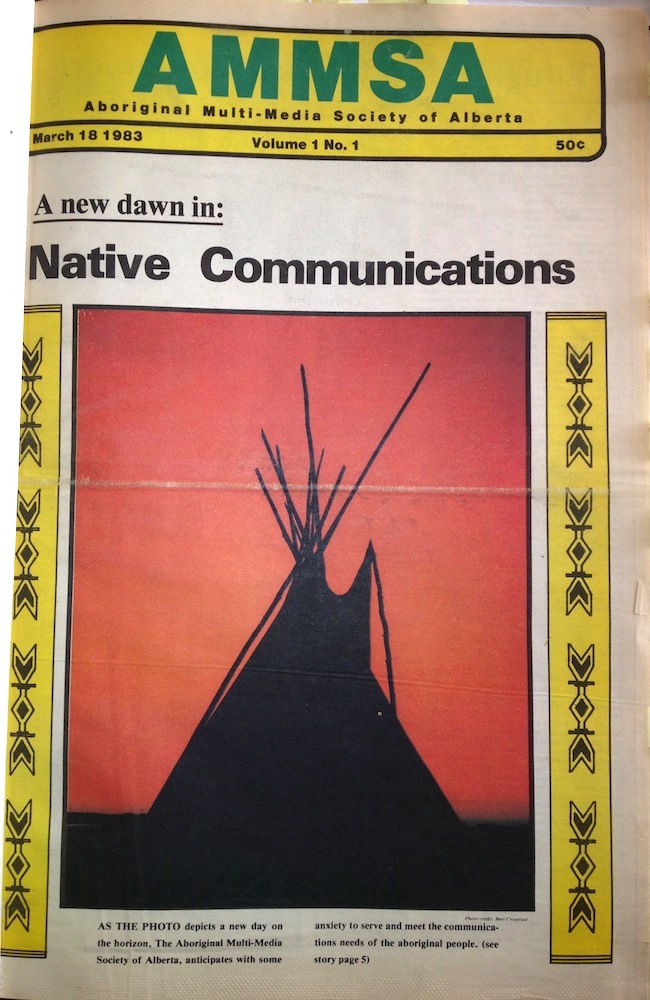 Crowfoot, the great-great grandson of legendary Blackfoot Chief Crowfoot, started the publication on a shoestring budget. A void in Native media coverage in the province had been created after the Alberta Native Communications Society (ANCS) folded in late 1982.
Earlier that year, Crowfoot had become editor of the ANCS newspaper Native People. With the organization closing its doors and the publication no more, Crowfoot, with a young family at home to care for, was left scrambling.
Crowfoot and the other staff of Native People came together to build a new society, an independent, non-profit Indigenous communications society dedicated to serving the news, information and entertainment needs of Indigenous people. And Crowfoot was determined to do things differently.
AMMSA was incorporated on Jan. 21, 1983. By February, funding was secured to publish. The society operated out of the Secretary of State offices in Edmonton for its first six weeks, and it has not only survived the ensuing four decades, it has thrived.
"I would say AMMSA is, unarguably, one of the most important Indigenous media organizations in North America. And, certainly, I would say we are the best example in Canada of an Indigenous media organization," said Noel McNaughton, who has held a board position with AMMSA for 40 years.
McNaughton brought his experience in television, radio and print journalism to the board.
"The original board Bert put together thought he should have somebody to shadow for a period of time, to learn how to do journalism. Part of it because he had been a photographer, mostly with Native Ensign [Crowfoot's own newspaper that he published out of the basement of his home].
"Then they decided, no, Bert can sink or swim, and (they) asked me to be on the board. That was in October of '83, and I've been there ever since," McNaugton said.
And swim is what Crowfoot did.
"I've always believed in the ethics of journalism. You're objective. You're unbiased. You try to get all sides of the story. And that's the one thing that I've always stayed true to," Crowfoot said.
AMMSA was purposely set up with a small board that kept its hands and opinions out of the editorial side of publishing. The board has made it a priority to have a mix of male and female board members, with Treaty, Métis peoples, and representatives from different geographical locations in the province.
"When AMMSA first started, my brother gave me a set of tapes called The Psychology of Winning by Dr. Denis Waitley. It was six cassettes, one lesson each side. Twelve lessons in total. And so as I was driving around in northern Alberta, I'd listen to one lesson for a week and then switch it. It took me three months to go through the whole thing, but that changed my life," Crowfoot said.
"I coached high level sports back then and I studied a lot of sports psychology. And one of the things that you learn is that you need to turn stumbling blocks into stepping stones. When something bad happens, what is the lesson?"
That stepping stones philosophy has served AMMSA well as it's navigated an often-turbulent publishing industry over 40 years, and built its radio broadcast arm, starting in 1986 with the very popular Country music station CFWE, The Native Perspective.
AMMSA radio now boasts the largest Indigenous radio footprint in Alberta and will soon cover all of the province. CFWE continues to go strong, but the network now includes CJWE in Calgary (also Country music) and The Raven Radio CIWE (Blues, Rock, Hip Hop and more). And AMMSA has begun to dabble in digital with Cuzin Radio (all Indigenous music) with call letters CZIN.
"One of our goals that we set at a board development workshop was that AMMSA would be financially independent. Because we knew that if all your money comes from one place, that's just not safe. It doesn't matter what business you're in. So, we had set the objective [in 1985] within five years to be financially independent," McNaughton said.
"Every board meeting the first question I'd ask Bert would be, 'How are we doing?' And he'd say, 'Well, we're coming along. We might not hit the five-year goal, but we're going to get there.' And then, suddenly, all of the funding disappeared [in 1990]."
AMMSA had been operating with a federal government grant. And so were other Indigenous publishers. With little warning, Canada pulled those grants and nine of 11 Indigenous news publications across the country went under. Not AMMSA, and not Windspeaker.
AMMSA had built up a contingency fund of about $250,000, and the first year after losing federal funding they spent half of that. The second year they spent almost half of what was left. McNaughton said the next year their lawyer warned them they would be personally liable as board members for the debts of the organization if things went under.
"So we talked to Bert and said, 'Can you pull it off? Are we going to make it?' And he said, 'Yeah, I think we can turn the corner this year.' So we said okay. And we did. We managed to become financially stable that year."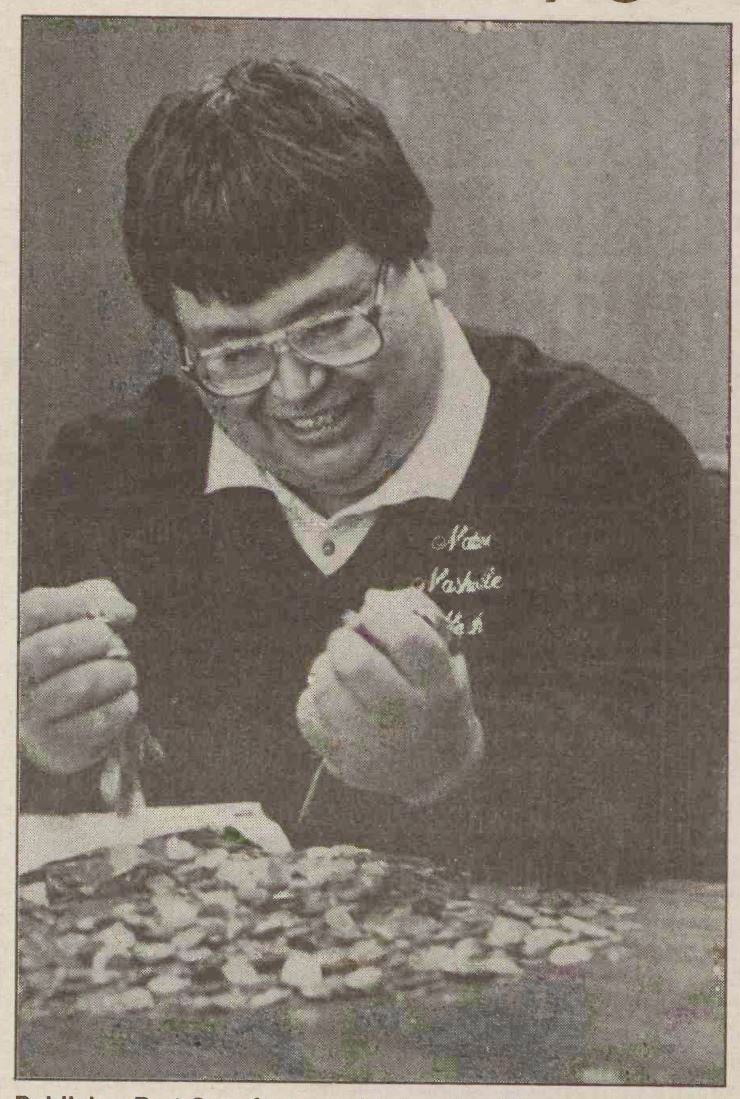 Not only did AMMSA survive, it grew and grew with Crowfoot's stepping stone philosophy.
"We're sitting around and asking 'what's the opportunity here'?" Crowfoot said. "There was a void, so Windspeaker went national" in 1993.
That left a void in Alberta, so AMMSA decided to publish Alberta Sweetgrass, a newspaper dedicated to covering the more local issues in the province.
And then AMMSA began newspapers in provinces that had lost theirs due to the federal budget cuts. Raven's Eye in British Columbia was born, as was Saskatchewan Sage and Ontario Birchbark.
"So we had five news publications at that time. Four provincials and our national news magazine Windspeaker. And that carried on for some time, but the postage and the printing got so expensive that we finally had to quit," McNaughton said.
Not publishing. AMMSA decided to quit the print publishing model. In 2016, AMMSA pulled together all titles under one banner, and fully embraced digital publishing with Windspeaker.com.
AMMSA has also been able to remain financially stable because of its radio stations, the expansion of which has been financed largely through radio bingo.
CFWE-FM, The Native Perspective started with 10-10-watt transmitters, each with only a 30-mile range, broadcasting in northern Alberta. The station was then located in Lac La Biche, Alta., but is now located in Edmonton in a 25,000 sq. ft. building, parts of which are rented out to provide another revenue stream.
An early goal of AMMSA's was to have a 100,000 watt transmitter.
"Now we've got eight of them," Crowfoot said.
"The goal is to cover the whole province. We'll have one of the biggest networks in Alberta," Crowfoot said. "So what we're doing now is filling all the holes with 100,000 watt transmitters and leaving our  smaller transmitters located in the more isolated communities."
"Lethbridge will be up this summer, and we're also in the process of setting one up in Medicine Hat. So that will give us a total of 11-100,000 watt transmitters. The other one we're putting up is going to be in High Level. And we also put The Raven (on the tower in) Edmonton two years ago. That's the first one we have two signals on: CFWE and The Raven."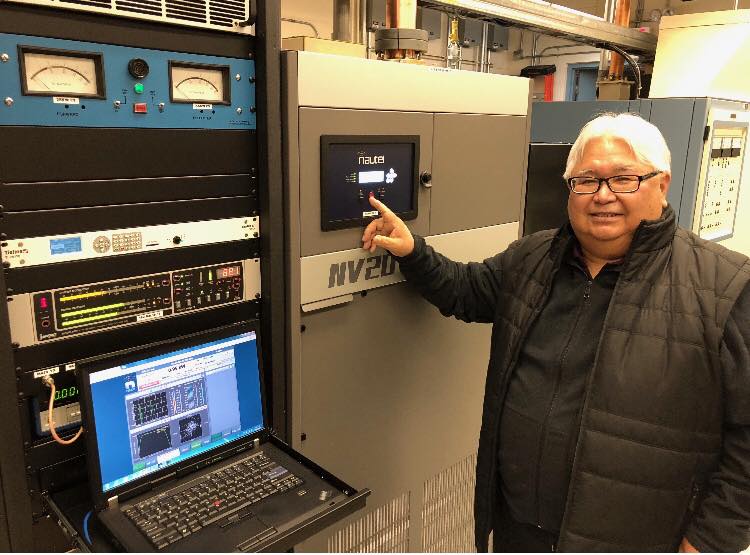 Radio bingo has been instrumental in funding this expansion. It's highly-regulated by the province for what the money earned through bingo can be spent on. A certain percentage of it must be returned to players through prize money. It cannot be used for wages. But it can be used for things like radio infrastructure.
It wasn't long before radio bingo became a weekly highlight for Alberta communities. The goal of selling $1 million in bingo cards was soon realized.
"They'd go to the store, buy their card, buy snacks, have supper and then start playing bingo. I remember someone from Edmonton wanted to schedule a meeting in one of the northern communities and said 'let's meet Monday'. And they said 'oh no, no, we can't meet Monday. It's bingo night," Crowfoot laughed.
Crowfoot's 'turn stumbling blocks into stepping stones' philosophy came in handy again when the COVID-19 pandemic hit. With lock downs over the years, the pandemic provided the time to regroup.
During COVID, Crowfoot spent time speaking with the manager of the radio stations about the future. Crowfoot thought radio had strayed a bit. It had worked so hard to sound "professional", by non-Indigenous standards, it needed to come back to its roots.
"We had wanted to have that sound. Ending ads right at 30 seconds and going to the next song," Crowfoot said.
But it was time to touch back to its Indigenous sound and identity, and it was decided to embrace Indigenous languages by committing to their revitalization. Radio now broadcasts Indigenous language lessons. The scripts used throughout the day to identify the stations to the listeners are in Indigenous languages, as well as English. On AMMSA radios stations, listeners will hear Cree, Blackfoot, Michif, Stoney, Saulteaux and Dene.
"With a bilingual ad, the English is 30 seconds and the Indigenous language side is about 45 to 60 seconds, because Indigenous language is very descriptive," said Crowfoot. "But we're storytellers, so I said 'tell all of our on-air people that. We're storytellers, so tell stories'." 
Crowfoot said the CRTC once asked him what the feedback was from Elders and community members about the stations' Indigenous language inclusion.
"And I said 'you want the honest truth? Most of our feedback is from non-Indigenous people who are learning the language.' They love the music, but they love learning the language. So that's a huge compliment to our organization."
AMMSA's stated mission is to be a bridge between the cultures. It's dedicated to serving a growing and diverse audience, providing news that is objective, mature and balanced and entertainment relevant to Indigenous and non-Indigenous peoples, all while maintaining profound respect for the values, principles and traditions of Indigenous peoples.
"People have always asked me, what was your vision when you created AMMSA? And, you know, the reality is I had a family to feed and I needed a job. That was my vision," said Crowfoot.
"One of the gifts I have is when I look at something, I may not be creative and say 'oh, I had a dream', but when I look at something I figure out how to make it better. And so when I got into news publishing, I found out that advertising makes it better. I saw it as a way to generate revenue. And the other thing was diversify your revenue stream, so if one goes down you're not going to shut your doors. You evolve.
"And so I think all this time when opportunities come up, I see beyond those opportunities to what the potential is for this organization."
After 40 years, Crowfoot still likes to get out in the community. He enjoyed writing, starting his journalism career covering sports, and has become a sought after, accomplished photographer.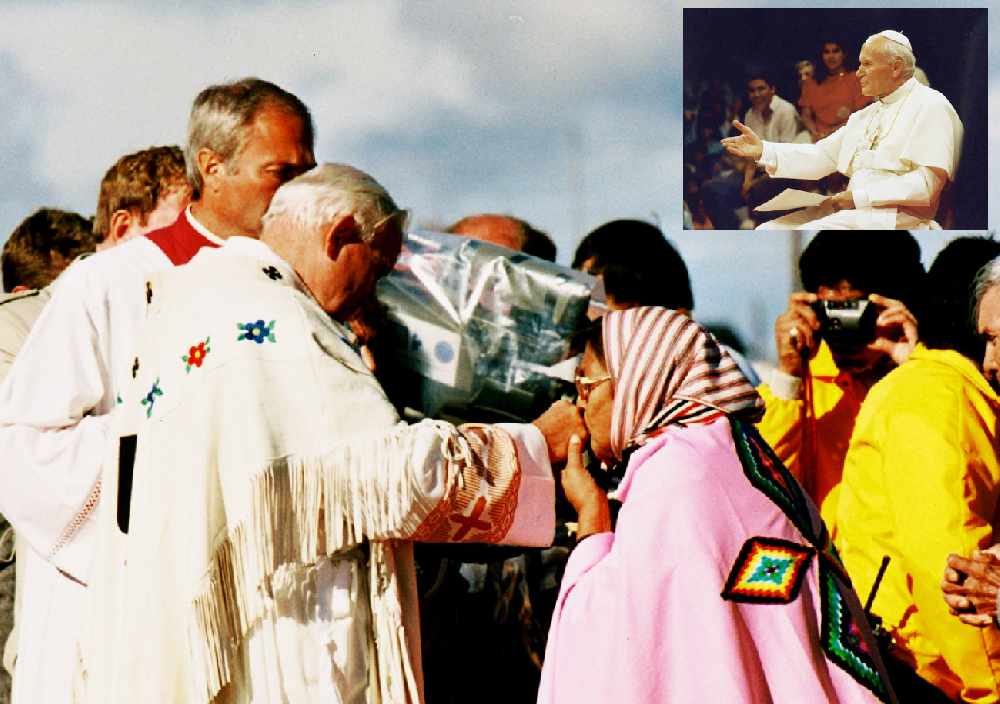 One of his proudest and most memorable work assignments with AMMSA was covering the Pope's visit. Not last year's visit, but the visit of Pope John Paul II in 1984.
"I went up with our crew and was taking photos and I got some really good pictures. It was a proud moment. Because I was an Indigenous photographer, I was right next to the Pope. He even shook the person's hand beside me. He would have shook my hand, but I had a camera. So when he was giving communion I was six feet away and that was a really proud moment.
"This past summer, I was given a spot to photograph the Pope (Francis) when he was in Maskwacis and in Edmonton, but, I declined. I just finished my residential day school application and it set off all kinds of triggers. I recently posted those pictures from the Pope's visit in Fort Simpson and even that set off some triggers, Crowfoot said.
"I have no memory of that time when I went to day school, but I gave up my spot to my daughter (Sandra Crowfoot) and went to visit my granddaughter instead. And it was a great experience for (Sandra) because they got to work with some of the best photographers in the world and watch them."
After 40 years, a new generation at AMMSA is learning the ropes.
Never miss a Windspeaker article. Subscribe Today to our new Windspeaker Newsletter!