Tuesday, April 11th, 2023 2:19pm
Summary
"Sometimes you want to be among your own. We're working things out. I call this 'irreconcilable spaces of Indigeneity'… You're not always explaining everything. You're getting on with it." —David Garneau
By Shari Narine
Local Journalism Initiative Reporter
Windspeaker.com

David Garneau had to sit for five months with the news— "I didn't even tell my own mum!"—that he had won the Governor General's award for Outstanding Contribution in the arts.
"It's been like carrying this secret, almost like a big stone under my shirt…and then when the announcement came it was like the rock was out of my shirt, but now I'm wearing a disco ball on my head and getting way too much attention," said Garneau.
On March 28, Garneau was announced as a winner, receiving $25,000 and a bronze medallion. The Outstanding Contribution Award is given to artists who have made an exceptional contribution to visual arts, media arts or fine crafts in a volunteer or professional capacity.
The acknowledgement and the resulting attention have been "just a little embarrassing," said the Edmonton-born Métis visual artist, curator and critical art writer, because he's all about collaboration.
While Garneau does work solo in his studio, for many of his projects he's part of a group.
He points to the Tawatinâ Bridge project he undertook in Edmonton two years ago. There are 540 paintings installed on the underside of the concrete Valley Line light rail transit deck, which also serves as the ceiling of the pedestrian walkway.
While Garneau designed all the artwork, he had a team of a dozen painters, many Indigenous but others racialized Canadians, helping out.
His curating has also gone to collaboration. Over the past eight or nine years, the exhibitions he has curated have been as a member of a team, working with one or two Indigenous women, he says, "and we tend to balance out our positives and negatives and come up with something that neither one of us could have done on our own."
Much of Garneau's work, whether it's his personal art, curating or writing, examines the complexities of being First Nations or Métis and the compromises that must be made.
"I'm really interested in how living right now, 2023, what does it mean to be Indigenous?" he said. "What can we learn and bring forward from the past because the alternative way, the dominant mainstream way, is so destructive to the environment. So that can't be the right way. How do we negotiate these two things? That's what I'm really interested in…how other folks deal with this very difficult idea."
Garneau highlighted this theme in the exhibition "Transformer: Native Art in Light and Sound," which he co-curated with Kathleen Ash Milbury in 2017 at the National Museum of the American Indian in New York City. The works of 10 Indigenous artists were presented.
"There's just extraordinary things going on that are more than traditional, and yet when you look at what they're doing it's all embedded in language, in Raven's (Chacon) case, or concerns about the environment, in Marianne's (Nicolson) case. There's such a range. But the idea that they're working in these new media, electronic media, shows it's an example," said Garneau.
Also of interest to his curator persona is how to reconcile having Indigenous objects and artifacts in museums.
"Some objects want to go home…so repatriation is important. But not everything should be repatriated," he said.
Some museums have opened themselves to protocol, recognizing that smudging is important before viewing some of these objects still in their possession.
For his own art, Garneau says, it "is about storytelling and it's about people getting together and talking, using the art objects to tell our stories."
In May, Garneau will be leading walking tours of his work on the Tawatinâ Bridge. In collaboration with Elders, they will give the stories of the artwork's life through oral storytelling instead of the written word.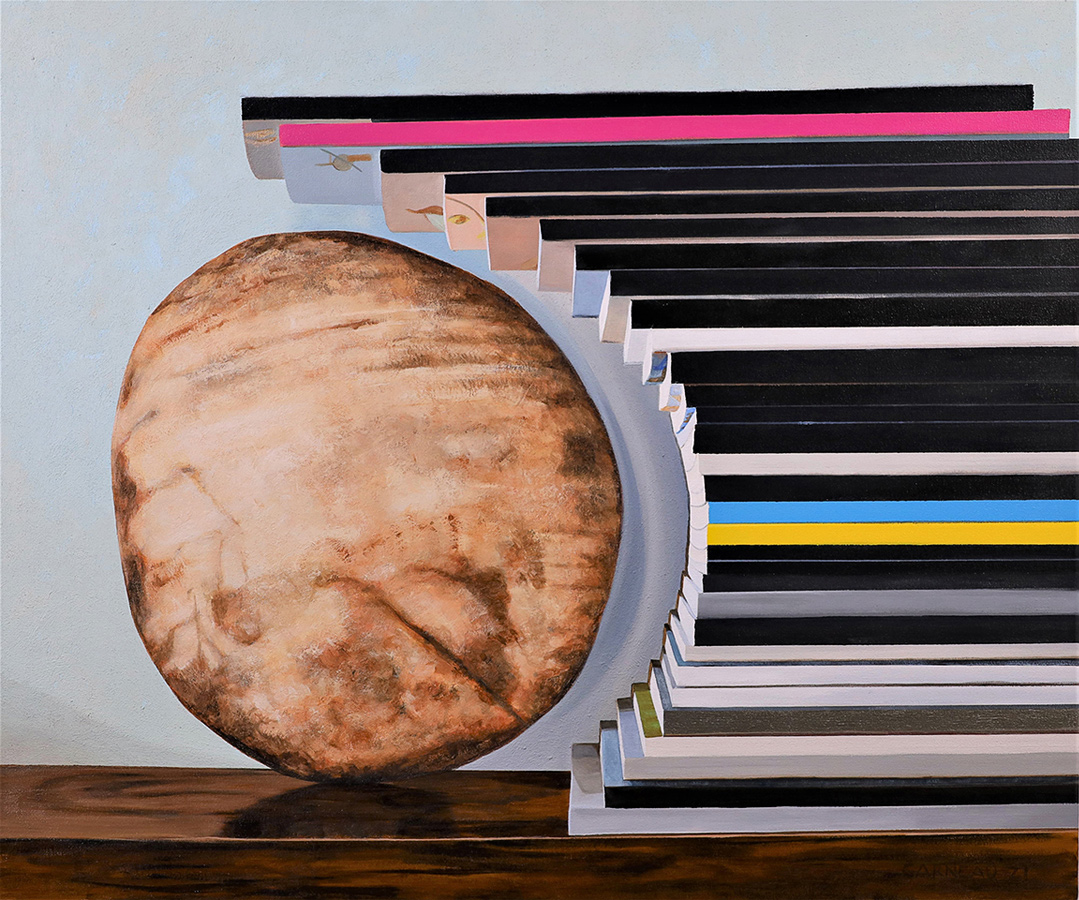 That interaction with the public is also driving his exhibition "Métissage," which is at the Nickle Galleries at the University of Calgary until April 22. The show's curator, Mary-Beth Laviolette, leads tours of Garneau's 53 pieces of artwork produced over 20 years.
"That's really important to me. Paintings are the on walls, but they don't speak for themselves. You have to speak with them…My work is full of ideas. It's not just images. They're tied to complex history," he said.
Garneau said Laviolette had included "lots and lots" of text in the show and he was surprised at the general history she was conveying.
But when he led a show himself, he said people asked "very basic questions," which he was pleased to answer. He said that level of discussion is necessary before the more complex issues can be broached.
Over the years, Garneau's work has strayed from focusing on creating Indigenous-only spaces.
"Sometimes you want to be among your own. We're working things out. I call this 'irreconcilable spaces of Indigeneity'… You're not always explaining everything. You're getting on with it," he said.
But then there are the times when "it's not just about Indigenous content. It's about what does it mean to be a scholar? What does it mean to be a human who's careening towards death? Then a mixed company is important."
He says many Indigenous artists appreciate that broader base.
"They like being invited not just because they're Indigenous or Indigenous showcased but their ideas and their feelings are put in context with other people from other walks of life," he said.
In 2025, Garneau will begin touring a collection of still life paintings called "Dark Chapters." The paintings will be accompanied by a book that will include poetry and writings on each piece.
"Most of (the writers) are racialized. Not all but most of them… I don't just want an Indigenous reading of these paintings. I want them to come to life for all different walks of life," he said.
Garneau recalls a conversation he had with First Nations artist Alex Janvier, a member of The Indian Group of Seven.
"He said his biggest regret was that nobody took his art seriously. Although he had been showing it all over the place, nobody had been writing about it critically," he said.
Surprised at the comment, Garneau looked at the notes in the back of the Indian Group of Seven book where he found comments on how well-loved the work was, but no evaluation or critiquing.
"Indigenous art is serious on the world stage when…there's critical reviews," said Garneau.  
This subject was the topic of one of his pieces as a critical art writer.
"We're getting more and more (critical reviews) but mostly we're still in the showcase model," he said.
However, he's hopeful that is beginning to change as Indigenous people move out of producing for the "white marketplace" and start producing work for other Indigenous people regionally and also internationally.
"We're part of this international network now of just Indigenous people making things and they're being considered by other Indigenous people. That's very, very exciting. That's a big change and that's why it's worthy of that notion of a renaissance, of a rebirth," said Garneau.
Garneau's career has taken him as artist, curator and keynote speaker to almost every continent.
Never, he says, did he expect when he was spending most of his time around the Sir Winston Churchill Square in downtown Edmonton, bouncing between the public library on one side and the Art Gallery of Alberta (free admission at that time) on other side, and playing chess and learning card tricks in the square with unhoused people, that he would accomplish so much.
"I never thought I would write something that would end up in a book that would be in the library," he said. "I always thought I'd get into the Edmonton art gallery. I really did think that I might get a show someday, but I only thought regionally."
Garneau anticipates the Governor General award will allow people to "put all the pieces together" about him: Curator, artist, writer.
"Hopefully people will read an idea I had in a paper and find it useful, and they'll use it. That's probably the greatest honour, when I see someone cite my work or they're moved by a painting. That's the greatest honour to me," he said.
Garneau's work will be part of an exhibition of the Governor General arts winners in November in the National Art Gallery in Ottawa.
"The wonderful thing about art, for most of us, our artwork persists. I'm going to die at some point. My works will carry on," said Garneau.
Never miss a Windspeaker article. Subscribe Today to our new Windspeaker Newsletter!
Local Journalism Initiative Reporters are supported by a financial contribution made by the Government of Canada.