Monday, January 30th, 2023 12:43pm
Summary
"I was so proud of Kyle… in that he looked invincible when he was wearing his regalia. He looked like he had truly found himself in a really beautiful way." — Brock Davis Mitchell
By Crystal St.Pierre
Local Journalism Initiative Reporter
Windspeaker.com

More than 20 years ago Brock Davis Mitchell took a photo of skateboarder and friend Kyle Young Pine. That black and white print would become a contract, of sorts, for an inspiring documentary. It was a bridge that brought two old friends together again after years of drifting apart.
The photo captured a smiling young First Nations skateboarder living in Okotoks, Alta. Behind the smile, however, was a teenager caught in a life of trauma and, despite his real talent, on the road to addiction and hopelessness.
PIITA AAPASSKAAN is an 18-minute film about the crossroads the young man reaches and the decision he makes to regain the spirit of his life.
Young Pine's home life was normal, or so he thought. He had two siblings, a bio-dad he didn't see often, and a stepfather and a mother with addictions.
"Because I didn't have anyone around me to tell me that was a bad lifestyle, drug and alcohol abuse, it felt normal," said Young Pine, a member of the Kainai First Nation (Blood Tribe).
Skateboarding provided a sense of freedom for Young Pine. It gave him confidence. He was good at it and competed in it.
"I became more talented than I ever expected," Young Pine says in the film. "I took it to a pretty high level."
But by the time he graduated high school he had spiraled out of control, entering the cycle of addiction he'd become accustomed to at home.
"It's like, 'oh well, these are the patterns at home, so I'm destined to be an alcoholic.' And, no one was really around to help… It just felt like normal behavior," he said.
Young Pine was 14 years old when he began drinking alcohol and eventually started experimenting with hard drugs, pills and cocaine.
It got messy. "Nothing was more important than getting my next fix."
He would party hard and then not go to work. He wouldn't even call in sick. He thought it didn't really matter, he said. "It was normal. I didn't know what addiction is… I lost everything."
One day when Young Pine was 25 and heavily under the influence after partying all night, he decided to hit up a local indoor skate park to help him sober up.
"I threw down to ride my board and I tried to do a trick, and I remember the feeling of not being able to. I couldn't feel my legs under me, and that was the clear indicator of 'I need to make this choice now. This is my choice today'," he said.
"I understood, at my 25-year-old self, there were two paths—pain and pleasure. Pain was drinking and pleasure is skateboarding, and I have to choose one. And it was kind of a no-brainer to be like 'I want to keep skating and I want to do good at it so I choose this path'."
That day, Young Pine decided to break the cycle of addiction, and this past November he celebrated nine years of sobriety.
Peace from drugs and alcohol was the gift he chose for himself, but it was not the only thing Young Pine would discover during his nine-year journey. He found his spirit.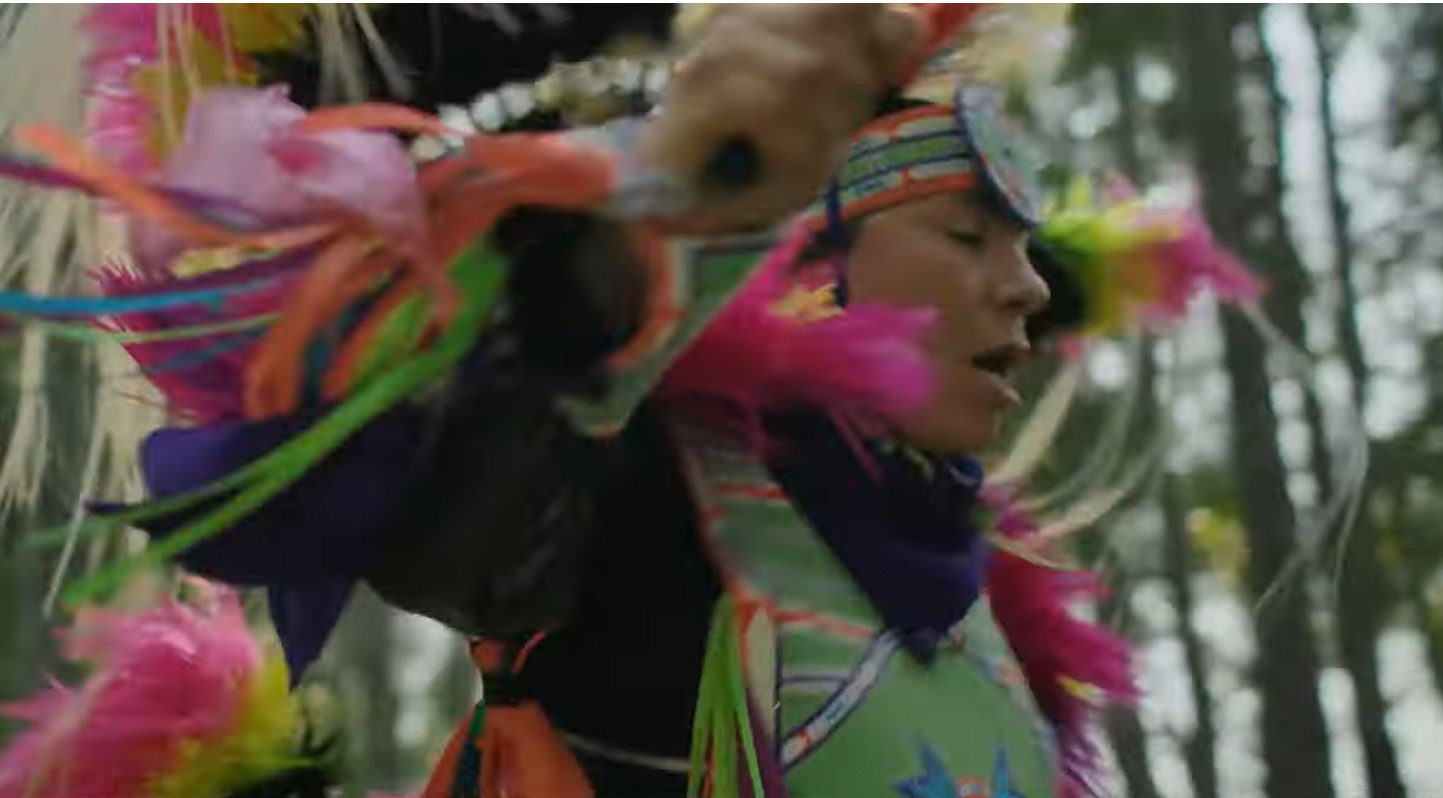 "I grew up in Okotoks, very western style and no culture really."
While attending the Calgary Stampede, he saw one of his friends powwow dancing and a realization hit Young Pine. It was an "aha moment" that sparked something inside.
Despite being raised the "western way", Young Pine said "I knew it was a part of my life to become a Fancy Dancer. It's like the mechanism of letting go. I'm letting my Creator run its course, and then ceremony just found me."
It would be the next chapter in his life, and Young Pine soon found himself fancy feather dancing at powwows, ceremonies and even on stage beside western-style rock musicians. That's where Mitchell and Young Pine reconnected.
"He has worked with these musicians to build a moment of education within the show. To quote him, he is 'bridging the gap between non-Indigenous and Indigenous people,' whenever he has the opportunity to," said Mitchell, who made his directorial debut through narrative music videos. He completed his first feature film called A Gentleman in 2018.
"I was so proud of Kyle… in that he looked invincible when he was wearing his regalia. He looked like he had truly found himself in a really beautiful way."
When he saw his old childhood friend, Mitchell thought Young Pine would be the perfect fit for a film project he was working on with Telus. Originally the project was supposed to highlight individuals who contribute to the community of Calgary. But after meeting up with Young Pine and realizing there was so much more to his story, Telus representatives agreed the two friends should create a mini documentary instead.
"What it led to was telling more of a story about Kyle's journey and recovery, and what fancy feather dancing brought him on his recovery journey and what he is doing now on a physical level, mental level, emotional level, to better himself in his growth," said Mitchell.
The two worked together in every aspect of the production, from filming, editing, and attending public events together.
One of the most meaningful parts of the film can be found before it even begins, said Mitchell. The title.
"We thought it was fitting to use his Blackfoot name, so we all get tongue-tied when we first say it and we have that uncomfortable moment … when someone is stumbling on the mic to learn it. Because that is what we are all trying to do, is stumbling to learn and form this new relationship in hopes of a little bit of reconciliation or, at the very least, a little bit of education around this culture that has been here long before people like me ever arrived."
PIITA AAPASSKAAN can be viewed on Telus Optik, Telus On Demand, YouTube at https://youtu.be/8U6tvvRTlDI  or at kyleyoungpine.com.