Monday, March 13th, 2023 1:47pm
Summary
"Part of the work of what we're singing about is our ancestorship, where we come from, and that's grounded in the land, it's grounded in our traditional knowledge, and it's coming out in our music and songwriting." — Raven Kanatakta of Digging Roots
By Shari Narine
Local Journalism Initiative Reporter
Windspeaker.com

Family was the powerful factor that rang true as the award winners for both the Traditional Indigenous Artist or Group of the Year and the Contemporary Indigenous Artist or Group of the Year were announced Saturday night at the JUNOS awards banquet.
The Bearhead Sisters from Paul First Nation took the Traditional Indigenous category with their album Unbreakable and the husband-wife team that form Digging Roots won in the Contemporary Indigenous category with their album Zhawenim.
"I prayed for days like this since we were little girls," said Allie Bearhead. "Not seeing many Indigenous artists, many Indigenous people be a part of big platforms, I dreamed about it when I was a little girl."
The Bearhead Sisters, consisting of Allie, Carly and Trina, were the opening act for the Saturday ceremony where all but a handful of awards were presented. The event took place in Edmonton on Treaty 6 territory.
"At first I was trying to be calm…We're always nervous when we do things. We were all trying to be strong for each other, help each other through these moments," said Trina about performing in Treaty 6, her home territory. "I'm very happy. I'm very honoured to be here to represent our music and our people."
"I told myself if we win this award, this one is dedicated to our youth of our community and all the youth that look up to us," said Carly.
It was the first JUNO win for the trio, who have been singing for more than 14 years.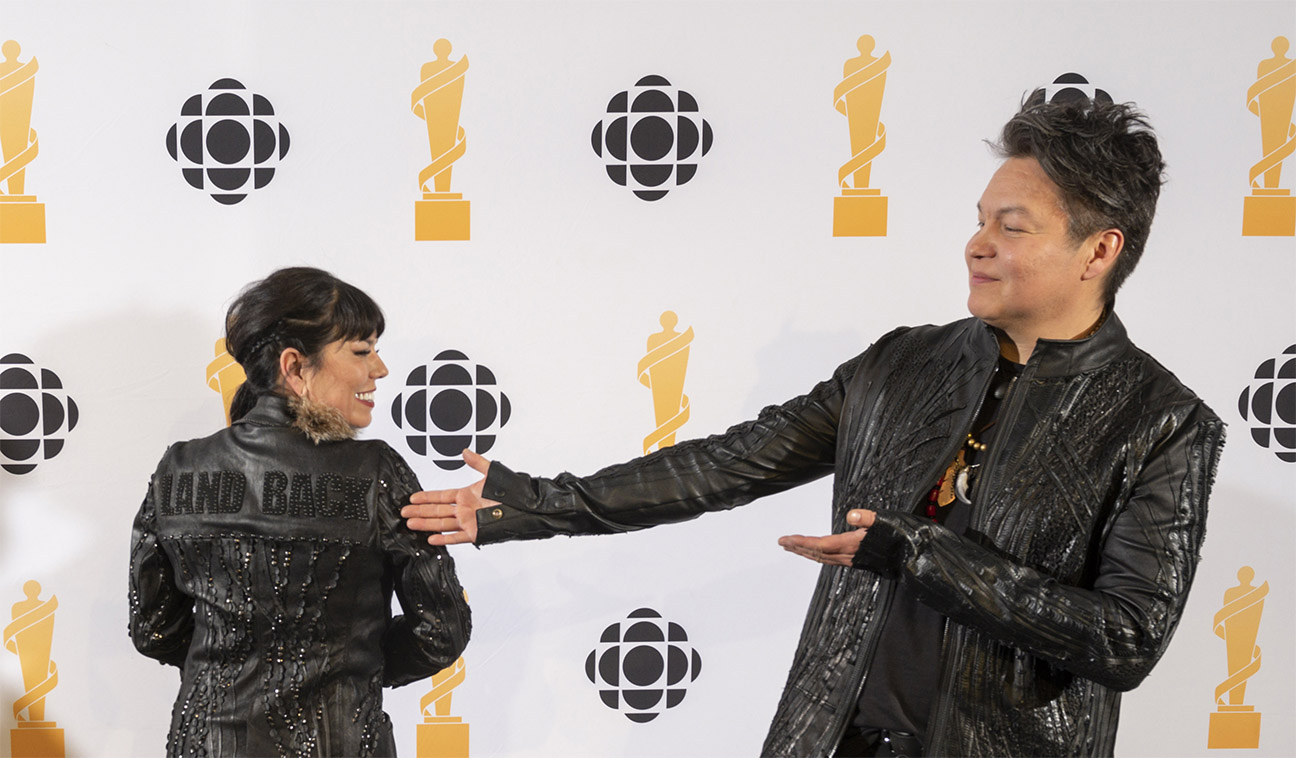 For Digging Roots, the duo of Raven Kanatakta and ShoShona Kish, Zhawenim represented their fourth album and second JUNO win. In 2010, the band won for Aboriginal Album of the Year with their second collection, We Are.
"I feel like we've traveled a lot of miles since then and it feels really beautiful," said Kanatakta, who is Algonquin and Mohawk. "Part of the work of what we're singing about is our ancestorship, where we come from, and that's grounded in the land, it's grounded in our traditional knowledge, and it's coming out in our music and songwriting. This nod from everyone fills that space."
Kanatakta dedicated the award to "all of the little babies that never made it home," referring to the deaths of children at Indian residential schools.
It was a dedication made even more poignant as Kanatakta and Kish were accompanied on stage by their elder son Skye. They have two boys.
Zhawenim means unconditional love in Ojibway, Anishnaabemowiin.
"It's a love song for the land and also our community and it's about dreaming into the future," said Kish, who is Ojibwe. "We were taught that we find our place in the world by doing the best we can for our future generations."
Written on the back of the jacket worn by Kish was "Land Back."
"Land back for me is about looking to (our Elders) and going back to a place where we have the rightful respect for this beautiful, beautiful place we call home, that we share as a home," said Kish.
It was a sentiment shared by Allie Bearhead, who was asked in the press room what she thought about Canadian singer Jully Black changing one word in the Canadian national anthem when she performed at the NBA all-star game last month. Black sang, "O Canada, our home on Native land…" instead of "our home and native land…"
"I felt that was very powerful," said Bearhead. "Our people have the stories of long ago…Her saying that this is Native land, it's beautiful. I'm very happy that she's representing that."
Also nominated in the Traditional Indigenous category were Cikwes (Kâkîsimo ᑳᑮᓯᒧᐤ), Iva & Angu (Katajjausiit), Joel Wood (Mikwanak Kamôsakinat), and Northern Cree (Ôskimacîtahowin: A New Beginning).
Also nominated in the Contemporary Indigenous category were Aysanabee (Watin), Indian City (Code Red), Julian Taylor (Beyond the Reservoir) and Susan Aglukark (The Crossing).
Other Indigenous artists nominated, but not winning, were Inuk singer Tanya Talaq with her album Tongues; and the Anishinaabe duo of Daniel Monkman and Adam Sturgeon that form Ombiigizi (Sewn Back Together) in the Alternative Album of the Year category; and O Glory, by Blackie and the Rodeo Kings, for Contemporary Roots Album of the Year. Founding member Tom Wilson is Mohawk. The group won a JUNO in 2000 in the category of Best Roots and Traditional Album.
Tonight's JUNOS broadcast will see the award for the Rap Album/EP of the Year presented. Boslen, whose mother and stepfather are Indigenous and also identifies as Black, is in the running for that award for Gonzo.
Performing in tonight's televised celebration, the final day of celebrations that began March 9 in Edmonton, will be Aysanabee with Northern Cree.
"We made a commitment about eight years ago to try and make sure we showcase Indigenous talent on the broadcast," said Allan Reid, president and CEO of the Canadian Academy of Recording Arts.
Reid noted that 49 Indigenous artists were nominated for the 2023 JUNOS, the most in the award's history.
"If we can again help elevate and lift artists up, that's what we're here to do," said Reid.
Also part of the celebrations was an Honouring Ceremony presented by Destination Indigenous at the Amiskwaciy Theatre at the Royal Alberta Museum on Saturday. Indigenous JUNO nominees performed, with an Indigenous food and beverage reception following.
Destination Indigenous promotes Indigenous tourism experiences in Canada.
Destination Indigenous director of development Tara Saunders presented the JUNO to Digging Roots for the Contemporary Indigenous category on Saturday night.
"(We're) proud to lend our support to Indigenous creators, artists and musicians across Canada," said Saunders.
Never miss a Windspeaker article. Subscribe Today to our new Windspeaker Newsletter!
Local Journalism Initiative Reporters are supported by a financial contribution made by the Government of Canada.