Wednesday, March 2nd, 2022 12:15pm
Summary
"The wind wasn't really strong but it was enough to blow in parts of the outside pattern that we had. We had to go around a lot of the outside edges to make the edges sharper for the photography. There was a lot of backtracking there that day." — Sheldon Benoit
By Shari Narine
Local Journalism Initiative Reporter
Windspeaker.com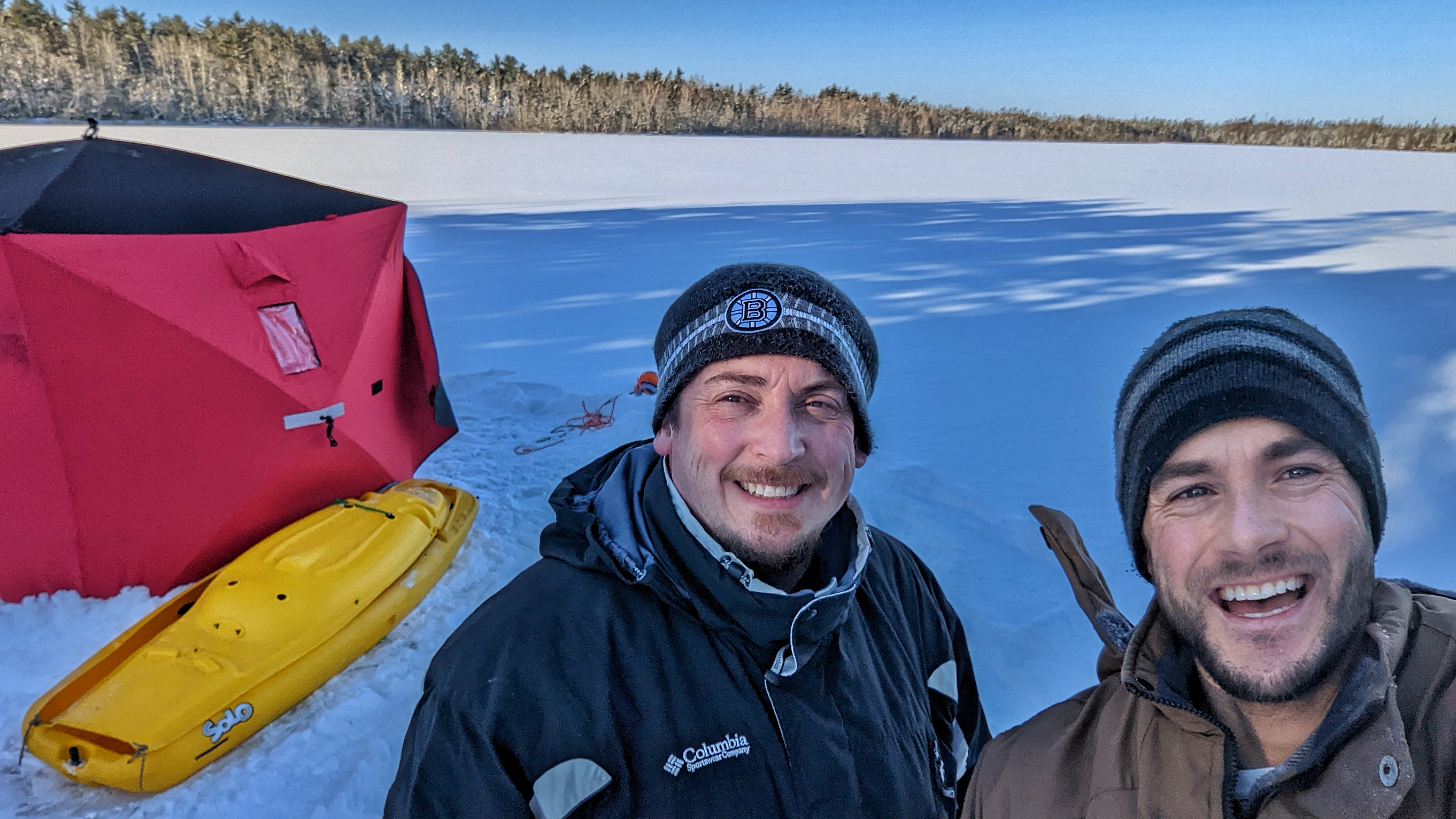 The beauty of snowshoe art, says Matt Robinson, is that one day it's there and the next day it's gone.
Recently, Robinson, and his snowshoe-art partner Sheldon Benoit, spent close to seven-and-a-half hours in minus 22-degree Celsius weather tracking a combined 30-km to create a dreamcatcher spanning the length of two football fields in the snow on MacElmons pond in the Nova Scotia provincial park.
"We really like that these creations are very low impact on the environment," said Robinson. "And the fact that they're a fleeting creation and they can be gone in an hour just adds to the magical aspect … and you kind of learn to appreciate the moment that you're in rather than trying to have something last forever,"
It's a sentiment shared by Benoit.
"It's kind of cool because it's like we were never there, but we have pictures to prove we were there. Not too many artists I think have that ability to do that kind of artwork and not have an impact. This has zero impact," he said.
While zero is the environmental impact, the Facebook post the pair made of the snowy dreamcatcher has garnered 3.5 million hits.
"We're just so blown away by the 100 per cent positivity coming from all the comments we've been getting on Facebook. It's just incredible the number of people who just love it," said Benoit.
The concept came to Robinson last year when he was on a local snowshoe hike. He came across a farmer's field "and it was a perfect blank canvas and the idea just popped into my head."
Robinson's first endeavour was a 50-metre checkerboard which took him about two hours to "stomp" out. He flew his drone over the creation, took photos, posted it on Facebook and was spurred on by the positive response.
He and Benoit, friends and co-workers on the afternoon shift at the Home Hardware eastern distribution centre in Debert, N.S., and both photographers, teamed up for the next snowshoe creation which was their first work at MacElmon's Pond Provincial Park, which "exploded from there on social media."
The idea to create the dreamcatcher this year was two-fold.
It was to branch out from the previous creation, which had been "very geometric," said Robinson.
It was also in homage to Benoit's mother. Benoit and his mother make dreamcatchers. His mother also beads.
While neither Robinson nor Benoit is status First Nation, Robinson is presently tracing his Mi'kmaq ancestry to the MacDonalds on Prince Edward Island and Benoit is tracing his Mi'kmaq ancestry through Newfoundland.
The dreamcatcher was created using a digital drafting program. The design is unique to the pair. Two weeks before they did their snowshoe art, the pair did a "test run" with the largest outside circle.
"We knew then the scale of it was going to be quite impressive," said Benoit.
So it was off to MacElmons Pond Provincial Park with equipment in tow for a 9 a.m. start on Feb. 26.
For safety, they checked the thickness of the ice on the pond using an ice auger. The ice was about 15 to 20 inches thick. Then they got to work in scaling up their digital pattern.
"There's a lot of spatial awareness when you're out there and double-checking and triple-checking your measurements before you take a step because one incorrect step and you've made that mistake," said Robinson.
They used a bright orange hikers paracord with every metre marked off so it was "basically a giant measuring tape," said Robinson. The rope was attached to PVC pipe that was slipped over a pivot point, which was anchored in the ice. Arcs and circles were made by keeping the rope taut and walking. For the straight lines, the rope was also pulled tight, placed close to the snow and snapped like a chalk line.
"The wind wasn't really strong but it was enough to blow in parts of the outside pattern that we had. We had to go around a lot of the outside edges to make the edges sharper for the photography. There was a lot of backtracking there that day," said Benoit.
He admits as the wind picked up he suggested that they not make all the feathers they had planned.
"But Matt was saying, 'No, we should do the feathers,' and it worked out in the end. So it was a good call by Matt," said Benoit.
Also because of the wind, they didn't video their work, but instead opted for only drone photography.
Photographs are for sale and all proceeds will go in support of building the future Mi'kmawey Debert Cultural Centre.
It was an obvious choice, said Robinson. The provincial park that held their creation is a short distance from the future site of the cultural centre and "Debert is a very community-oriented town."
"We're pretty proud of what we've done. It's good to have some positive stories going out because lately we haven't had that," said Robinson.
Photographs can be purchased at https://client.momentsmattr.com/dreamcatchersnowart/
Local Journalism Initiative Reporters are supported by a financial contribution made by the Government of Canada.