Monday, March 13th, 2023 12:44pm
Summary
"My process of healing has gone on all my life. I was taken from my blood and culture and language and medicines when I was six months old. So when I began to try to understand what Indigeneity is, I searched through music." — Cree composer Andrew Balfour
By Rebecca Medel
Local Journalism Initiative Reporter
Windspeaker.com

Reimagining how things might have been different had the history between First Nations and European settlers taken a different course was part of the impetus for a new musical project.
Prominent Cree composer Andrew Balfour and Vancouver's 12-person internationally-renowned vocal ensemble musica intima have worked together to create Nagamo: History Reimagined.
The project reshapes Elizabethan masters with Ojibway and Cree perspectives. The soaring notes of classical choral music mixed with Indigenous music is a cross-Canada project making its final stop in Edmonton on March 18. 
"I grew up with this music as a choir boy, so part of it is in my musical DNA," Balfour said. "So this idea came from what would have happened had the European nations treated the nations here on Turtle Island with respect; what would've happened in history?"
Balfour explained that during the beginning of the 17th century, several chiefs and esteemed First Nations leaders journeyed to Europe in the hope of forging alliances.
"In many cases, they were treated as respected ambassadors. Nagamo explores the fantastical idea of what might have happened if the sharing of music and the respect of culture had contrived, and how a different history might have played out."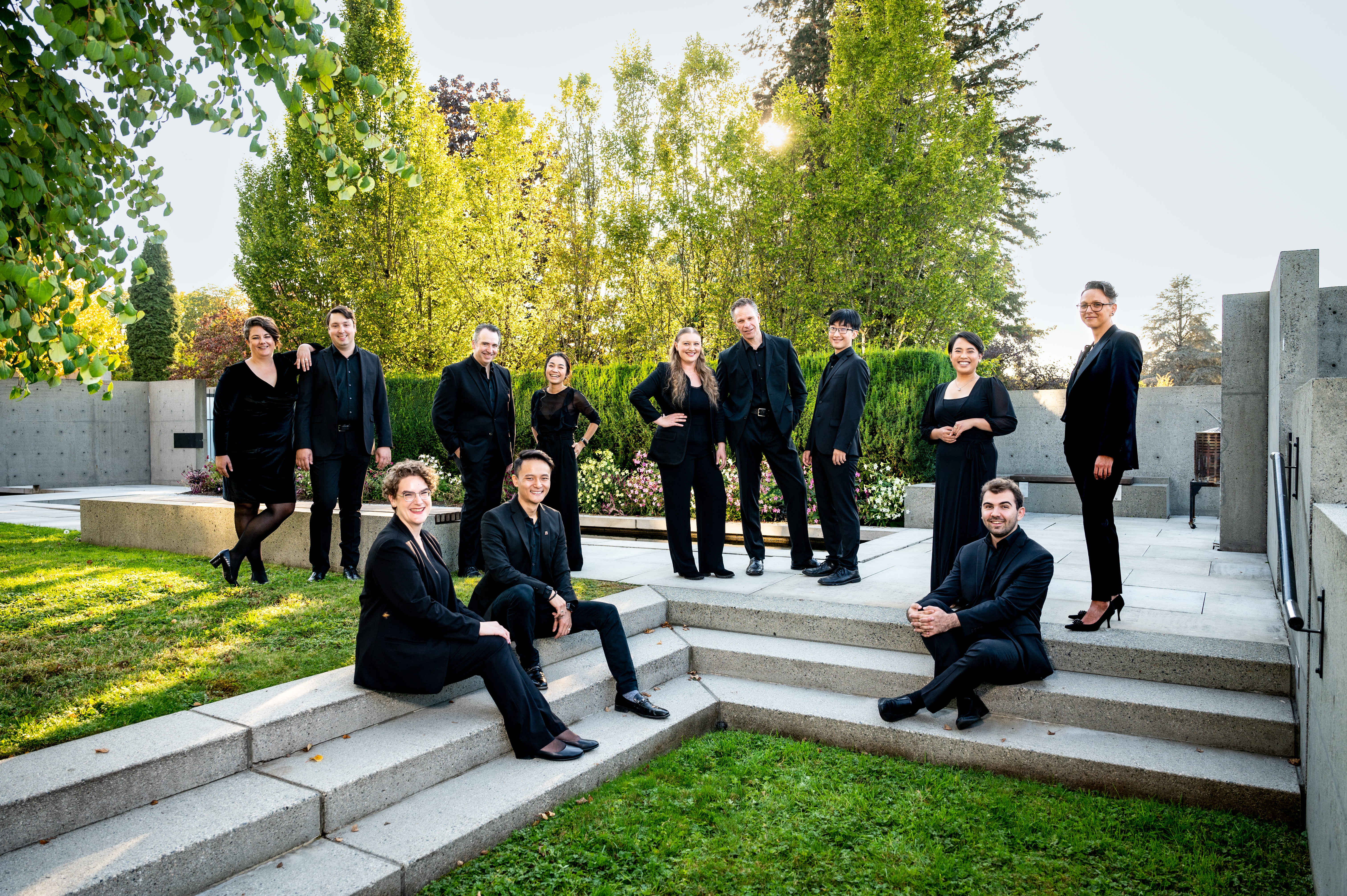 The partnership with musica intima is a success story straight out of COVID-19 lockdown days. Jacob Gramit sings baritone with intima and is also the group's artistic manager. He said choral music is typically what they sing, but the group has been trying to expand its repertoire.
"At the core of our practice is choral music, and choral music is a Western, colonial construct. It's music that was imported from Europe," Gramit said. "So for us to go on a decolonizing journey, we need to stop looking within our group, and within the choral music community, and start looking outside at other folks we can be collaborating with. And that's sort of been intima's goal as we shift our priorities."
Gramit said that during the pandemic the group came across a piece of Balfour's music and performed it and decided to interview him about it on YouTube. It was through that conversation that the idea for Nagamo came up. 
"This project was really the first step in that direction where we're trying to decolonize our model," Gramit said.
Balfour was excited about the partnership too. In May 2022, both he and intima performed the premiere of Nagamo in Vancouver. The current run began at the beginning of March and includes performances in Toronto, London, St. John's, Winnipeg and Edmonton.
"It just seemed like a natural progression to be able to work with musica intima, to do this music at the highest level and to really bring out new perspectives," Balfour said. "I think that the idea of taking it now across Canada brings a much more powerful statement. Rather than just a one-off performance or a CD and then moving on to the next project, we're really evolving this project as we tour and that's pretty exciting."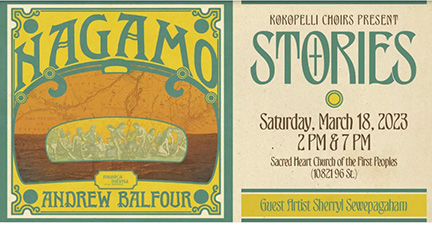 On Nagamo's final tour stop in Edmonton, the performers will team up with the Kokopelli Choir Association for its annual Stories concerts on Saturday March 18 at 2 p.m and 7 p.m. at 10821 96 St.
Òran young adult choir and Kokopelli youth choir, along with award-winning Cree-Dene singer/song creator Sherryl Sewepagaham, will be performing in Sacred Heart Church of the First Peoples, a beloved historical space that has hosted the choirs for decades. The church, which was nearly lost to fire in 2020, is now restored and reopened.
Scott Leithead is the founder and artistic director of Kokopelli and said the choirs don't perform a lot of early music, so the collaboration with Nagamo is really exciting.
"Andrew has such a connection to early music, he grew up singing in cathedrals. So he's taken these early, early pieces and changed the text so that it's in Cree and Ojibway and incorporates more Indigenous ideas, such as connection to the earth and to each other," Leithead explained. "So singing these early pieces that have these soaring lines but a completely different text [from the original] is really quite amazing."
Leithead said that the juxtaposition between cathedral-style music and other pieces that have more angst to them will provide quite a magical contrast during the concerts. "It's going to stir up a lot of emotion, but there's also going to be moments of release."
Sewepagaham worked with Kokopelli during its last Stories performance in March 2020 before COVID lockdowns. She knows Balfour from when they were both teaching artists with the National Arts Centre's Music Alive program. And her connection with musica intima began about a year-and-half ago when they were performing a couple of her pieces. So the inclusion of her work into Nagamo was a sure fit.
"What I find really exciting is that they're singing in Cree in a choral setting, where Indigenous language and music and expression was once illegal in this country," Sewegapaham said. "I see it as my people having been forced to learn French and English and forbidden to speak their language, but now things are changing where there's an interest to learn Indigenous languages. That wouldn't have happened even 25 years ago. So that exchange of language is part of learning about each other and that is a step towards reconciliation for me."
It's also about taking back space in churches. "As we know about our history, and the church's involvement in residential schools, I see Andrew taking that back and saying we're going to reappropriate the church's spaces and put our voices, our language, our people back in. We're going to stamp our foot and say 'this is going to be a different space' and I think that's part of healing in a way," Sewegapaham said.
"My dad is a survivor and I think that hearing choral music and some of the earlier sacred music styles may have a bit of a healing aspect because it no longer has the darkness that churches and that history were associated with. Now with the Indigenous language and our people and all of the melodies and even all of the traditional instruments that I'll be using, those change that narrative and change the focus of the church."
First Nations music is traditionally oral, and in Sewepagaham's work of composing in Cree, she is allowing the music to be shared and dispersed among wider audiences. And to even keep the language itself alive. Leithead is happy his choirs have been given this opportunity to sing in Cree.
"Music is a great way to learn language because it sticks with you; the emotion of the words stays with you. You retain the words. To me that's so special, that the language is being sung," Leithead said.
Music also has healing properties and Nagamo's performers are aware of the important role they're playing in reconciliation.
"In this fragile time in history, in the relationship between settler Canada and the Indigenous people of Turtle Island, I feel Nagamo is a powerful and important step in reconciliation and healing. As well, I'd like to think this is only the first step of many more toward a deeper understanding of Indigenous healing and artistic perspectives on Mother Earth now, and in the future," Balfour said.
"My process of healing has gone on all my life. I was taken from my blood and culture and language and medicines when I was six months old. So when I began to try to understand what Indigeneity is, I searched through music."
Telling stories, in particular through choral music, wouldn't work without collaboration with other like-minded groups and individuals.
"In these sorts of collaborations, musica intima is striving to basically make ourselves a vehicle for someone else's artistic expression," Gramit said.
Curating Nagamo and working with performers across Canada has been important work for Balfour.
"The importance of collaboration in this day and age is vital. To keep the arts going we need to collaborate. We need to let go of control of so-called artistic ideas. This project wouldn't work without a 100 per cent collaborative spirit."
Tickets for Nagamo are $25 (students $20, children $15) and can be purchased at https://www.showpass.com/stories-nagamo/
Never miss a Windspeaker article. Subscribe Today to our new Windspeaker Newsletter!
Local Journalism Initiative Reporters are supported by a financial contribution made by the Government of Canada.