Thursday, February 9th, 2023 3:58pm
Summary
"It's kinda like an escape, not only into the land, but from the land to connect spiritually either through my imagination or through thinking about the beautiful places beyond where our ancestors might be." —artist Crystal Lee Clark
By Crystal St.Pierre
Local Journalism Initiative Reporter
Windspeaker.com

Art lovers can view the unique talent of Crystal Lee Clark at the Art Gallery of St. Albert in its staircase space from Feb. 7 until May 6.
LandEscape is Clark's mixed media exhibit inspired by her Métis, Dene and Cree ancestry and the movement of nature.
"They are this wonderful connection to landscape, to history, but also to Indigenous traditions and ways of knowing," said Emily Baker, curator at the gallery, located about 15 km northwest of Edmonton.
"Not only do they have that love for the landscape and the natural world, they've got this connection to this beautiful past as well. And so with LandEscape, Crystal wanted to capture a lot of the animals and plants and medicines and people who have walked this landscape for generations."
To have her exhibit showcased at the gallery, Clark took part in a screening process in which she presented the concept of her work to a jury. It took a year for Clark to complete the process of creating the mixed-media paintings, which combine a digital component and layers of paint to create one-of-a-kind works.
When Clark embarks on a new project or painting, she begins the process with extensive research into the history of the area where her art will be displayed, as well as her own personal connections to that space, she said.
"It takes me a very long time. They are really connected to a story or a feeling that I'm trying to tell or reconnect to," Clark explained. "I find that my pieces really do tell a story of my life and me kinda searching for meaning and connection to my ancestry."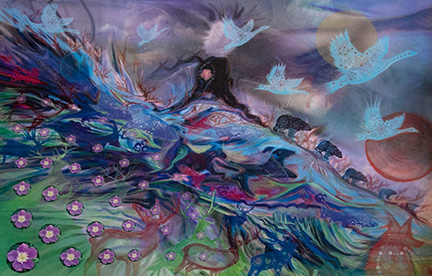 Clark grew up in Fort McMurray, Alta. until the age of 12 and then moved to other communities in western Canada.
She says she never truly felt connected to her Indigenous background and the history of her family until she attended the Algonquin Art Centre in Penticton, B.C.
"That's where I really started to identify and connect with myself as an Indigenous woman, and I was exposed to art as a way of expressing myself and where I fit into this world," Clark said.
She then attended the Vancouver Film School where she gained knowledge about various media and complimentary mediums that can be used together.
"I also studied poetry and I find through art I can create layers of meaning, poetry and understanding and stories and narrative about all the beautiful things about being an Indigenous person. Art has really helped me to really reconnect and really rematriate and celebrate who I am as an Indigenous woman," Clark told Windspeaker.com.
When creating LandEscape, Clark said she focused on her own disconnect to the land and how her ancestors have also been forced to disconnect from their culture and traditions for generations.
"The LandEscape title has double meaning," Clark said. "In one sense, I myself like to escape into the land as a way to disconnect from all the things that are happening, maybe stresses, anxieties, social issues. I find a lot of peace when I connect with the land. But also, in another sense, the title means for me, it's kinda like an escape, not only into the land, but from the land to connect spiritually either through my imagination or through thinking about the beautiful places beyond where our ancestors might be."
When beginning a project, Clark spends a lot of time researching the types of animals that were abundant at the time in that area, as well as the plants people would have used for medicine.
She then takes that knowledge and creates images on top of a digitized background that is well blended with the painted images.
A common theme throughout her work is the images of shawls and the movement of the fringes during dance.
"The movement of the shawls infringing into the landscape for me is the feeling of freedom... It makes me celebrate the beauty of the dance movement of the shawl," said Clark. "When I look at the shawl and see dancing, I feel a sense of freedom like a butterfly."
Within each painting, Clark creates this feeling of dance by blurring the lines of how the fringes of the shawl mix and meet with the land, water and air.
"It sort of connects the shawl back to the land again and the spirit of how I feel as an Indigenous person, the beautiful movement and flow and the freedom and joy that it brings," she said.
Within the fringes of the shawl, the images from her research are placed to represent the way things were for past generations.
"The background of the shawl dancers, sometimes fancy dancers, and the fringes of the shawls spread right out and form the land around them," explained Baker. "It's almost like they are blending right into that landscape. The closer you look the more you start to realize that those shawls/landscapes are filled with creatures… They are all kind of hidden and tucked away into this beautiful little landscape. The works themselves are entrancing. The more you look the more you start to see."
For more information go to LandEscape – Arts and Heritage Foundation St. Albert