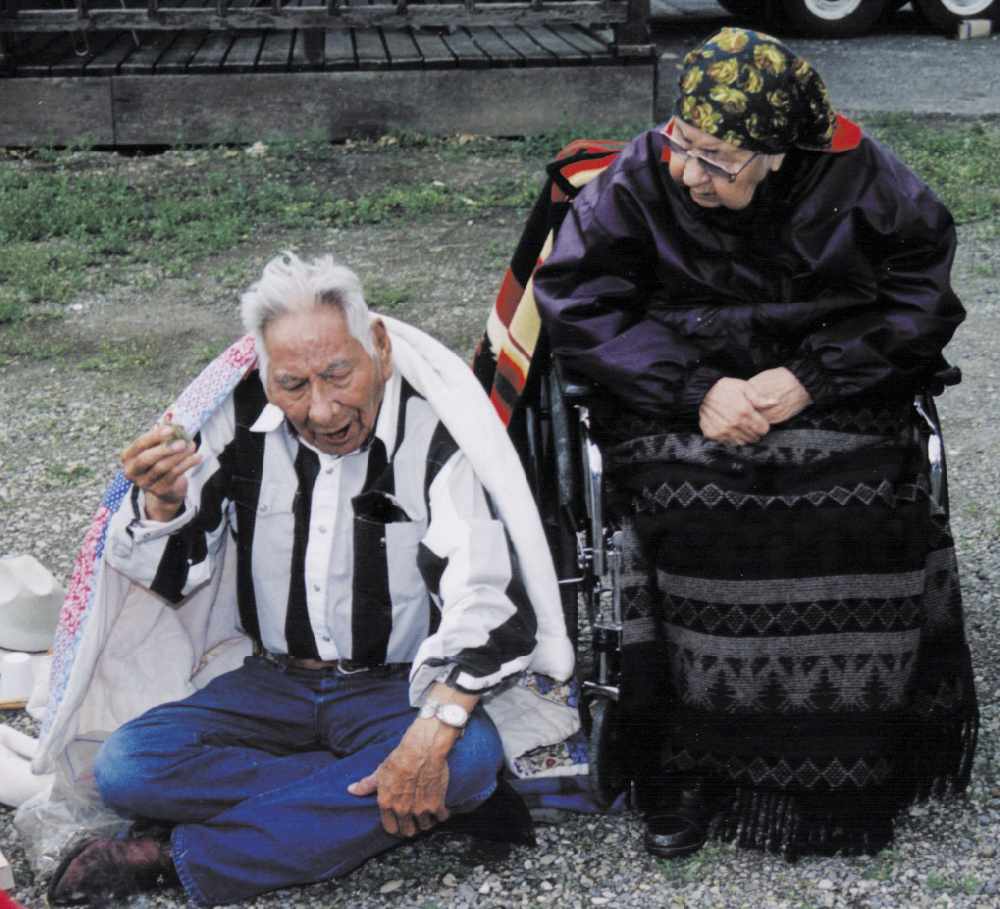 By Barb Grinder, with files by Shari Narine
Windspeaker.com Archives
Allowing media coverage of sacred ceremonies may still be frowned upon by some members of the Aboriginal community, but Peigan Elder and spiritual leader Joe Crowshoe welcomed such opportunities.
"Without photographs and stories about our traditions, they'll die out," Crowshoe said. "I don't see any harm in letting people take pictures and write about our traditions if it's done with respect. It helps to teach our young people about the Indian way."
At 87, Crowshoe, was nearly blind and deaf, and had been teaching young people for most of his life. Born in 1909 on the Peigan Reserve, Crowshoe attended the Anglican Church residential school, graduating in 1928. Though he would have liked to have gone to St. George's College in Winnipeg, he instead went to work as a ranch-hand on the family farm.
He also became involved in rodeo, following the Canadian professional rodeo circuit as a bronc rider. For two years, he worked on the trail crew in Waterton Lakes National Park and also spent two years "chasing cows" on a large feed lot on the reserve.
"In those days the government only wanted Indian children to attend school up to Grade 8," he said, "So I wasn't really encouraged to go to college. I really learned a lot in school, though I missed my family."
Though Crowshoe said he was lonely, especially that first Christmas he spent at school, he spoke highly of his educational experience, noting that he particularly enjoyed the summer camps he attended.
"I learned a lot about the land. We'd go up in the Crowsnest Pass, around Lundbreck and Coleman, and I got to know the mountains. We'd go fishing and walk a lot, and we played ball games. But we also learned about hardship in that school."
Crowshoe was able to learn about his Blackfoot heritage from the Elders of his tribe, particularly his grandparents. Eventually he used this knowledge to become one of the Peigan's most respected spiritual leaders and band councillors.
"We have to learn to work together," he would say. "And to do that, we have to understand each other's traditions and language."
Though Crowshoe thought understanding other people was critical, he felt strongly that understanding one's self was even more important.
"It's good for children to learn our Blackfoot language if they want to," he said.
Crowshoe passed away at his home on Oct. 29, 1999 surrounded by his family. He was 93 years old. He was a man of charity and never boasted of his accomplishments, said Rev. Sidney Black, who presided over the service with Margaret Water Chief.
And his accomplishments were many, recognized by a number of awards, including the 1998 National Aboriginal Achievement Award in the Heritage and Spirituality category. In 1991 he was presented with the Order of Canada. He was also a recipient of the Canadian Citation for Citizenship (1989), the Alberta Achievement Award (1989). He was also presented with two honorary doctorates.
His funeral service combined Blackfoot and English, with Christian and Indian tradition. The two communities that Joseph Crowshoe, Sr. spent his life sharing his wisdom with joined to bid the Elder goodbye.
The Peigan Nation flag flew at half-mast as about 600 people packed the Brocket Community Hall on Nov. 2, 1999. Inside, Crowshoe's tipi hung as a backdrop and his headdress was laid in front.
 "Joe had every right to boast, but in humility, he didn't do that. His goodness was exemplified in this way."
Crowshoe's accomplishments were felt in both the Native and non-Native worlds. In his eulogy to Crowshoe, Leonard Bastien, one of Crowshoe's adopted children, told of the traditions Crowshoe helped keep and revive.
In a time when the government and church made the Peigan people feel ashamed of their heritage and language, said Bastien, Joseph Crowshoe was farmer by day, but leader of the Blackfoot ways by night.
"Joseph Crowshoe stays firm in my mind. He said, 'We will never be white,' and he kept the Medicine Pipe Bundle ceremony alive," said Bastien.
Crowshoe, who held one of two pipe bundles necessary to perform the Sun Dance ceremony, was successful in petitioning the Provincial Museum in Alberta to return the second bundle. In 1977, the Sun Dance ceremony was reinstated after a 25-year absence in the province.
Joseph and his wife Josephine led the ceremony.
"He brought knowledge from our past and today it's still with us," said Bastien. "Joseph Crowshoe went above and beyond the call of duty."
Crowshoe's "call" took him beyond the boundaries of the Peigan Nation. He worked to help bridge the gap that existed between the Native and non-Native cultures. It was in this work that Christine Silverberg, former Calgary's police chief, was befriended by Crowshoe and his family.
The awareness and respect grew to such a point that Crowshoe bestowed the name of Bluebird Lady on Silverberg. He also designed a tipi for the Calgary Police Force, which was transferred in Silverberg's name.
Crowshoe was also a part of the annual cultural awareness camps that were held on the reserve and offered to such organizations as the Calgary City Police.
"I learned from Joe one must never give up what one has. One must always stay true to oneself," said Silverberg. "He was a person who believed resilience and strength come from within. You fail only because you set up your own barriers in your mind," she said in her presentation during the service.
Crowshoe, who had been instrumental in the creation of the Head-Smashed-In Buffalo Jump Interpretive Centre near Fort McLeod, was honored by the centre. It closed its doors to the public on the day of his funeral.
On April 8, 2002, the centre opened the Joe Crowshoe, Sr. Lodge.
"Joe was a great teacher. He modeled the way we should live as First Nations people," said Peter Strikes With A Gun.
"Joe saw opportunities where other people saw closed doors and difficulties," said Jack Brink, curator of archaeology at the Provincial Museum of Alberta. "He was this man of dreams and visions and this is what this place has been about."