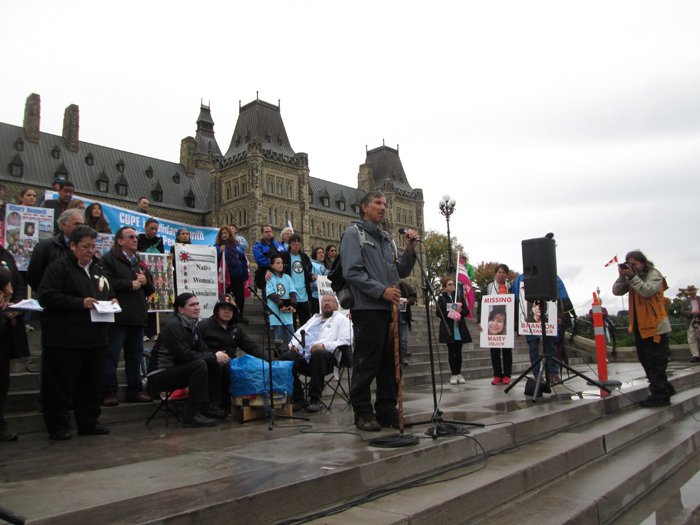 By Dan Rubinstein  Windspeaker Contributor  OTTAWA
Aboriginal leaders and the families of missing and murdered Indigenous women repeated their calls for a national inquiry into the crisis on the steps of Parliament Hill during a National Day of Remembrance on Oct. 4, but the rally's first speaker, Cree elder Irene Lindsay, insisted that the vigil was about more than grief.
"Today we need to celebrate their spirits," she said, "and to honour these beautiful women."
Chief Gilbert Whiteduck of the Kitigan Zibi Anishinabeg acknowledged the parents of Maisy Odjick and Shannon Alexander, who were standing behind him with pictures of their children on placards. The two teenaged girls from the large Algonquin reserve north of Ottawa vanished without a trace six years ago.
"I find it deplorable that in a wonderful country like Canada we continue to lose so many women," said Whiteduck, "and so few concrete things are being done about it."
"It is difficult to imagine the pain and sorrow that so many families have to go through every day of their lives," said Ghislain Picard, interim national chief of the Assembly of First Nations. Why does the federal government monitor human rights abuses around the world, he asked, and not pay attention to abuses in our country? "Justice is a fundament human right," he added, "even in Canada."
Alex Neve, the secretary general of Amnesty International Canada, recalled standing across the street in Ottawa's National Press Theatre 10 years ago as his organization launched its "Stolen Sisters" report. A decade later, according to the latest RCMP statistics, more than 1,000 Indigenous women have been murdered since 1980, and as of November 2013, at least 105 women and girls remained missing under suspicious circumstances.
"This is an entrenched human rights crisis," said Neve. "It's probably the most longstanding human rights crisis we've ever faced here in Canada."
Read more: http://www.prolonged-entrenched-human-rights-crisis-right-here-canada