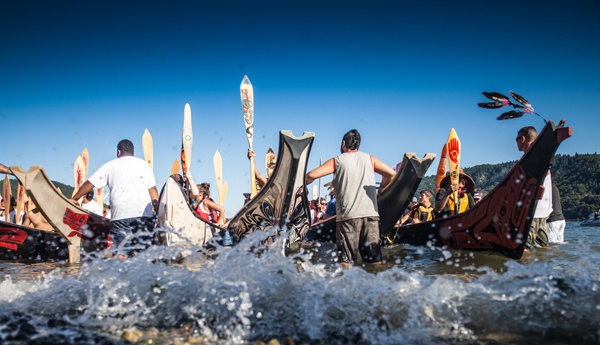 By David P. Ball - Windspeaker
As the flotilla of ocean-going Coast Salish canoes broached the rapids under Vancouver's iconic Lion's Gate Bridge Sept. 2, police boats followed with sirens flashing and officers keenly observing. To the north, hundreds of people gathered on a Tsleil-Waututh Nation beach to welcome the convoy.
But instead of heading straight to the waiting beach crowd, the armada of nine 20-person Tsleil-Waututh and Squamish nation vessels turned south–bearing drummers and traditional regalia–and joined kayaks, fishing boats and even one-man, paddle-boarders as it approached the Kinder Morgan oil refinery in Burnaby, B.C.
The day's two-hour paddle–undertaken from West Vancouver to Deep Cove–had significance both cultural and political. As Kinder Morgan proposes to more-than-double its Trans-Mountain oil sands pipeline from Alberta, and expand an oil supertanker port in Burrard Inlet, First Nations and environmentalists on the coast are escalating their opposition to the project.
The paddle journey culminated in the two nations' chiefs signing a declaration to protect the Salish Sea.
"By signing this declaration, our Nations are calling on people from all cultures to stand with us to protect our environment for future generations," Tsleil-Waututh Nation's Chief Justin George told a packed crowd. "This celebration reminds us all that there is room for many paddlers in one canoe. When we paddle together, with one heart, one mind and one spirit, great things can happen."
Squamish Chief Gibby Jacob welcomed environmental group representatives to join the journey in their own ocean-going canoe–an alliance he said is essential to protect the sea from the risk of an oil spill disaster from tanker traffic or a pipeline rupture.
"The potential for an oil spill is too high for our people, our community, and this region," Jacob said. "We are exercising our Aboriginal rights and title and will uphold our Nation's cultural and environmental values."
In front of Kinder Morgan's hopeful seaport site, one of the canoes–painted in traditional red-and-black designs–broke off from the convoy, making a wide arcing circle in front of the corporation's existing green storage silos as pullers conducted a ceremony, drummed, and cast protective prayers over the unsettled waters of the Salish Sea, also called Burrard Inlet.