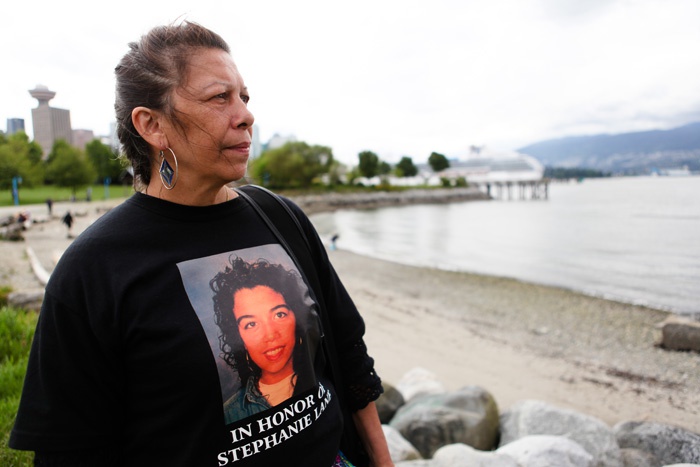 By David P. Ball Windspeaker Contributor
More than a year after the missing women inquiry ruled that systemic racism and a "colossal failure" by RCMP and Vancouver police had allowed serial killer Robert Pickton to continue killing for years, B.C. has settled a lawsuit with 13 children of missing women, and announced a $4.9 million fund for 98 such children in the province.
Announcing the fund on March 18, B.C. Attorney General Suzanne Anton said a $50,000 fund for each child of women named in the missing women inquiry final report is "a fair amount" and "the right thing to do."
The fund was announced by Anton alongside Vancouver Police Department chief Jim Chu and representatives of B.C. RCMP and Vancouver City Council. But several families of serial killer Robert Pickton's mostly Indigenous victims decried the price on their mothers' deaths as "blood money" and insufficient compensation.
"It's sad to say my daughter's birth mother was only worth $50,000," said Bridget Perrier, stepmother of Angel Wolfe, whose mother Brenda was one of Pickton's six murder convictions.
"They have blood on their hands, so this is blood money.
"As someone who's raised a child that is an orphan due to the systemic racism that went on within the province of B.C. and within the VPD, this is disgusting… it's pennies. Some of these children have been raised in immense poverty... These are children with multiple layers of issues."
"No amount of money could compensate the children for the loss of their mother, but we do hope that this fund will help the 98 children who are eligible," Anton told reporters. "It is our sincere hope that this funding will provide these children with an opportunity to enhance their education, their housing and other circumstances as they progress with their lives."
Read more:  http://www.ammsa.com/publications/windspeaker/pickton-victims%E2%80%99