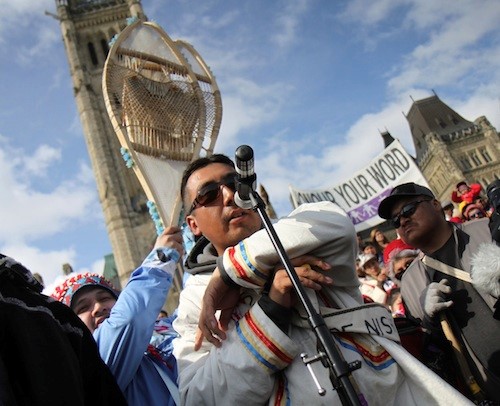 By David P. Ball - Windspeaker - March 25
From stinging minus-55C temperatures in the far-northern Cree wilderness beyond the reach of roads, to the melting woodland snows of temperate Algonquin territory, a remarkable youth journey has made its way by foot and snowshoe this past two months, 1,600 km from James Bay in Québec to Parliament Hill.
A convoy of several hundred walkers–accompanied by van-loads of supporters–arrived on Parliament Hill on March 25. Until its final week it is a quest that, aside from Aboriginal media, has gone largely unnoticed by Canadians, but has instead gained a massive following on Facebook.
The Journey of the Nishiyuu started in mid-January as a group of seven teenagers and a guide, inspired by Chief Theresa Spence's then-hunger strike and the blossoming Idle No More movement raging across the continent. Along the route, the youth stayed in family homes and school gyms on reserves throughout Québec.
"Well, it's been pretty tough," said 20-year-old Gordon Matthews from the Cree Nation of Wemindji on James Bay. "Since the day this journey began–from Hudsons Bay and James Bay–it's pretty much been tough. It's been minus-50 and minus-55.
"When we got down to Lac Simon–the first Algonquin territory–everything changed: the climate, the weather. We're entering a new phase. We have to face the melting snow with our snowshoes. The problem we have now is the blisters–most of us have blisters on our feet, and we're still going. We're not stopping... We're trying to protect our lands–Mother Nature, Mother Earth–because our ancestors respected our Mother Earth."
Fellow trekker Nathalie Mathias joined the trek last week when the group–at least 100 walkers-strong at that point–reached the Anishinabe First Nation of Lac Simon. She told Windspeaker that the purpose of the walk is to celebrate and strengthen the unit of Indigenous peoples.
Read more at www.ammsa.com/publications/windspeaker/journey-nishiyuu-swells-hundreds-after-1600-km-trek